After walking around Vienna all afternoon the following day, we stepped foot into an Italian restaurant for dinner.
When we entered, it felt like we were transported back into our wonderful travels in Italy. Carlo, the restaurant owner and manager, welcomed us in a very warm fashion. He was clearly a very passionate and active person. What a first impression! Throughout the evening, he welcomed and bid farewell to his customers in a way that you would receive when you go to a family party. We felt so at ease that it really felt like home to us. When he spoke about Al Borgo's concept, he exclaimed how he truly wants to have a relaxed atmosphere and make his guests feel right at home like a true Italian would! There was also fabulous live music inside the restaurant that allows guests like us to just sit back and enjoy. Apparently, that's where the restaurant's name came from, "Albergo" which is a place where people meet and hang out. It is Carlo's true desire to have his restaurant emanate an authentic and relaxed atmosphere.
We received the menu shortly after being seated. Carlo came and explained that his menu consists of special Italian dishes from all over Italy. The menu items are based on what's in season, therefore, he adjusts his menu accordingly. Italy is right next to Austria so it is very easy for him to get the authentic ingredients he needs. We also noticed that there's a "wild garlic week" coming up soon. Pity we didn't time it to experience that as my husband and I love garlic. There's even a special in October where Al Borgo would serve a kilogram of mussels to its customers for only 18 euros. What a steal!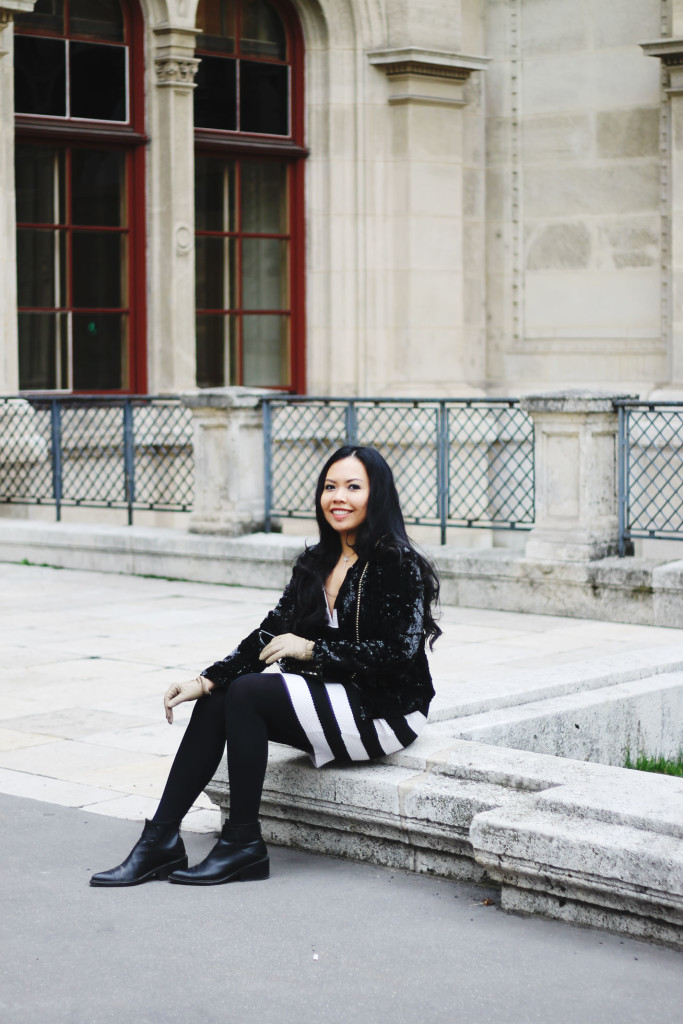 Style Details
Dress & Jacket | TOPSHOP
Bag | JIMMY CHOO
Shoes | HELMUT LANG
Sunglasses | CÉLINE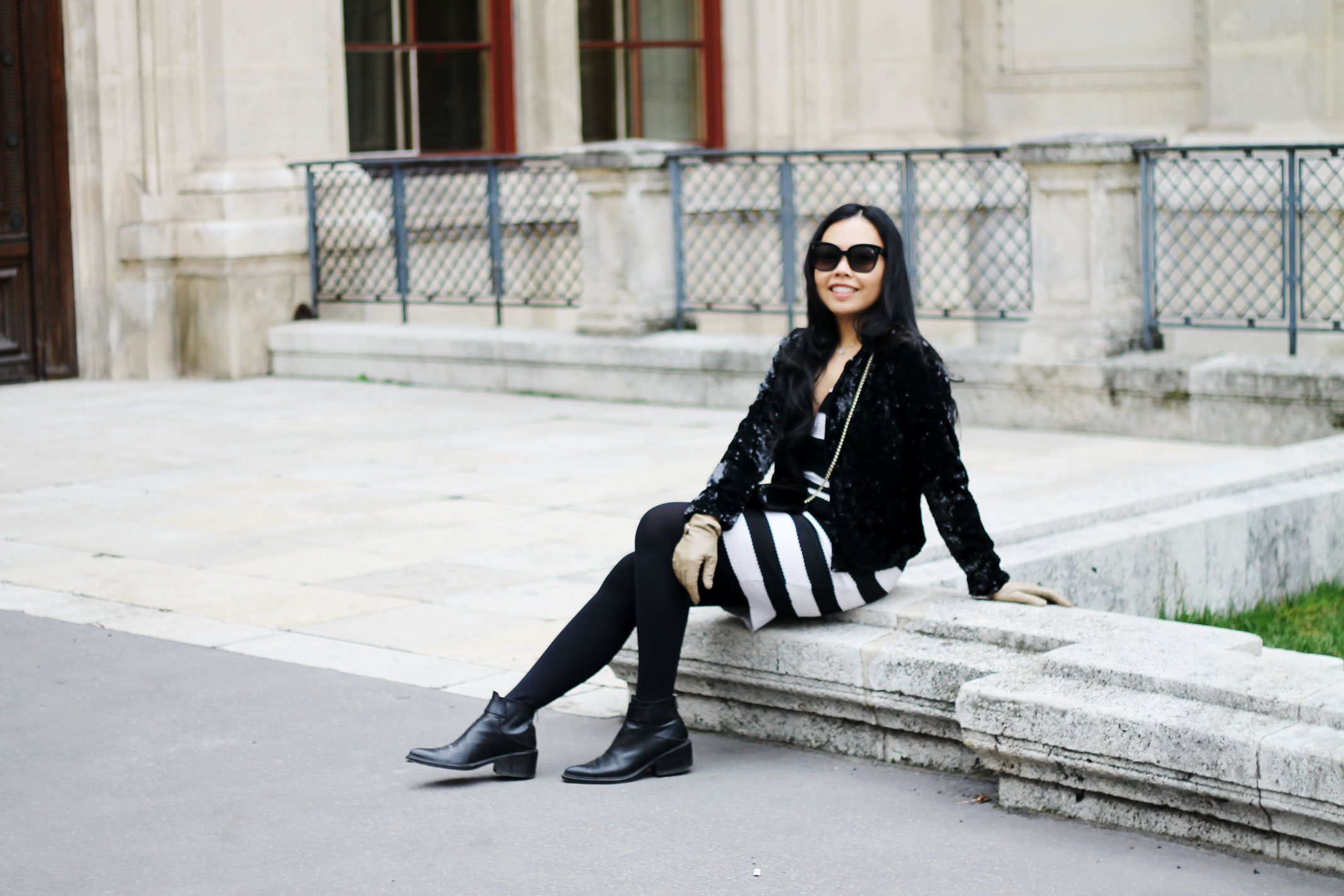 The bread came served with a side of red and green olives, olive oil, and a delightful prawn & zucchini mouse. The paste looks like a wonderful guacamole and the olives were very flavorful. The green portion had a good pizzazz to it. The red was full of flavor and gusto. I love olives so this was all too heavenly for me.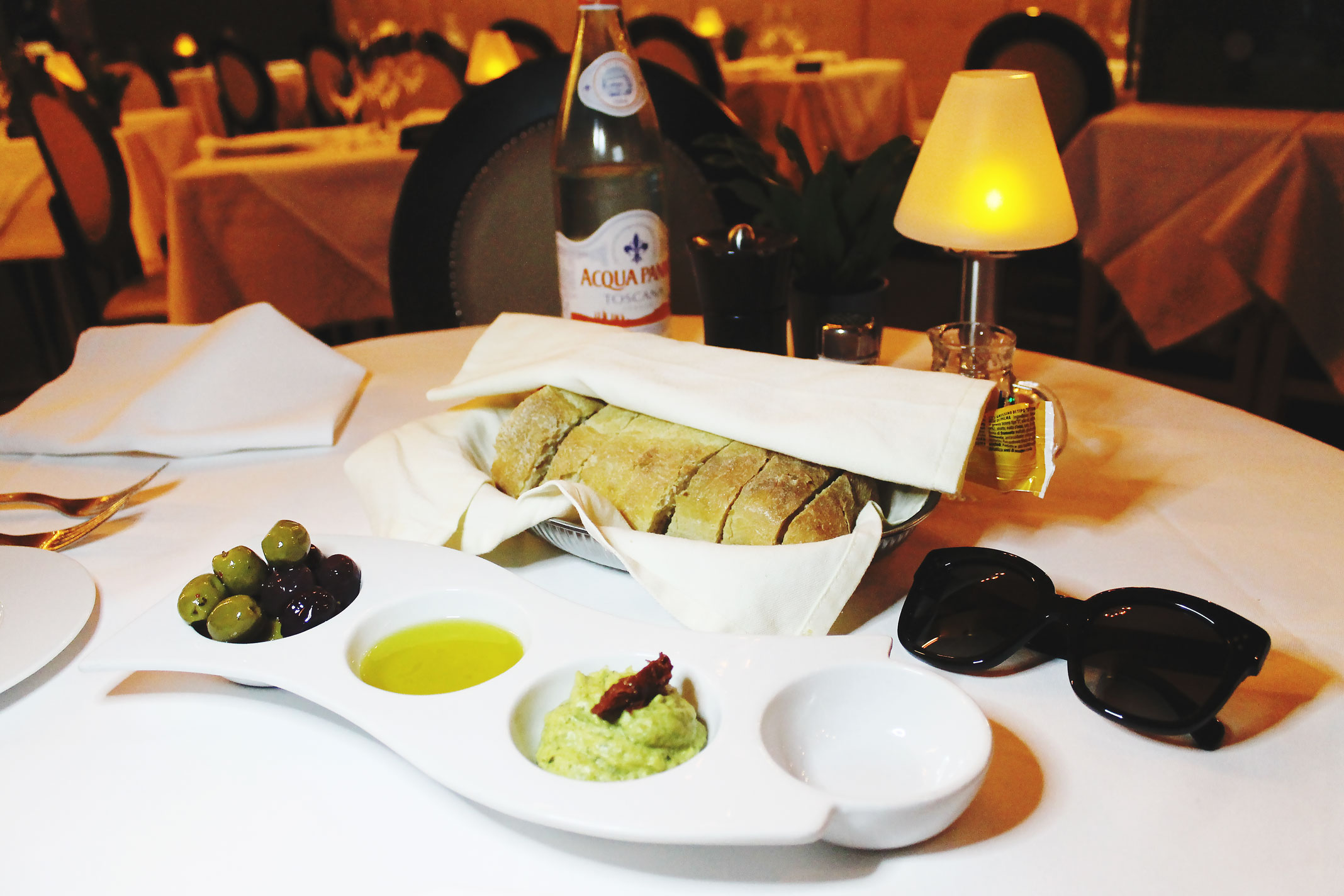 Our first course was a starter meant to be shared. It featured a beef carpaccio, prosciutto rustico, buffala salami, octopus salad, and ricotta cheese with enjoyable avocado and prawns. The buffalo cheese was very soft and creamy. The prosciutto was flavorfully good. The freshness was evident in the beef carpaccio with ricotta cheese. The octopus was so thick that it was like feasting on high quality beef. It reminded me of the time when I ate octopus from Santorini freshly caught from the Mediterranean. Amazing! This appetizer quickly brought me back to Italy!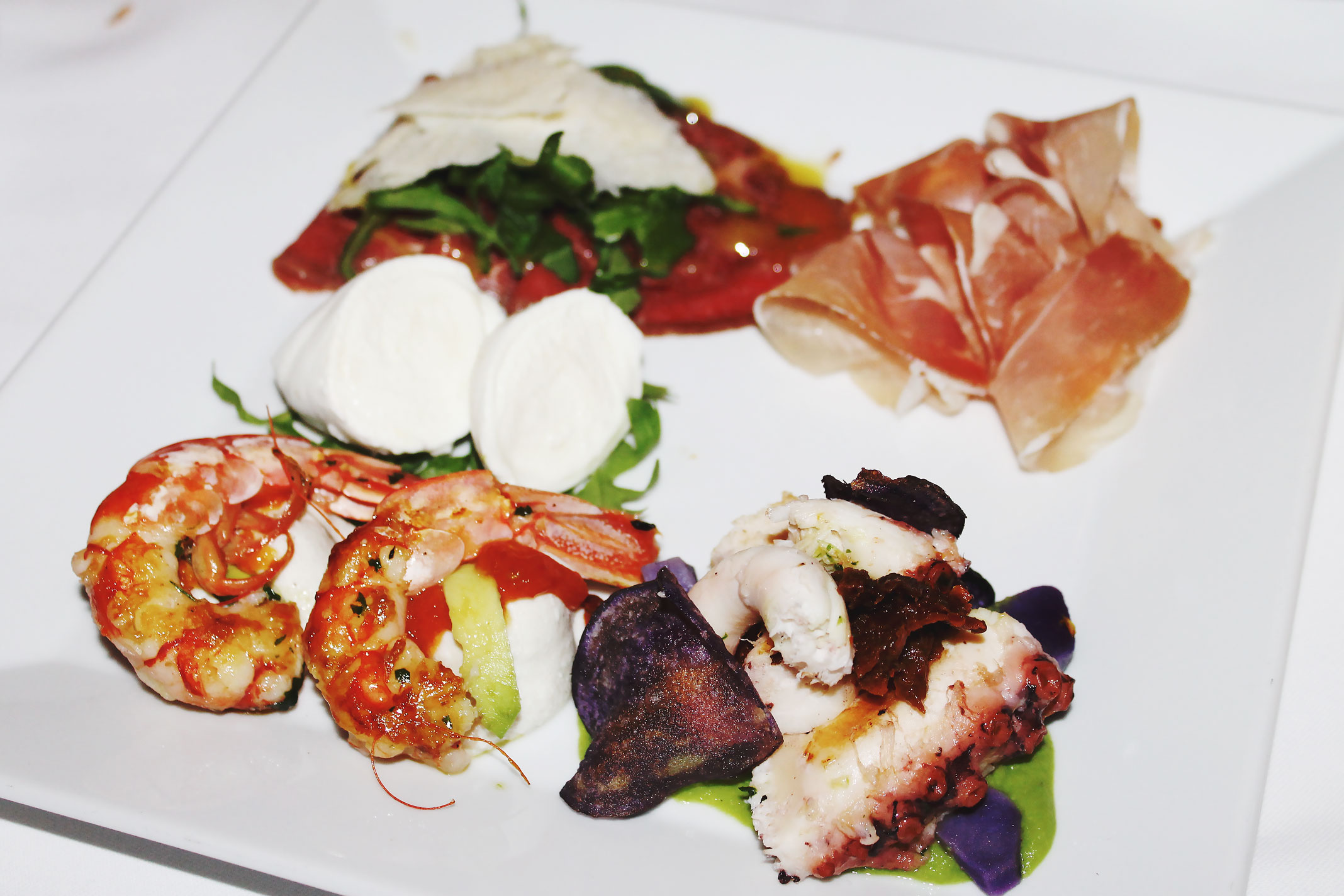 Our secondi consisted of two pastas. The first was a delicious cheese and truffle mushroom. This was not on the menu, however, sometimes Al Borgo would surprise its customers with specials of the day based on the fresh ingredients they find. One thing I noticed was that they don't have lasagna or carbonara. When we mentioned this to Carlo, he laughed and stated that he only serves authentic Italian, not "touristy" Italian. We were thankful for that!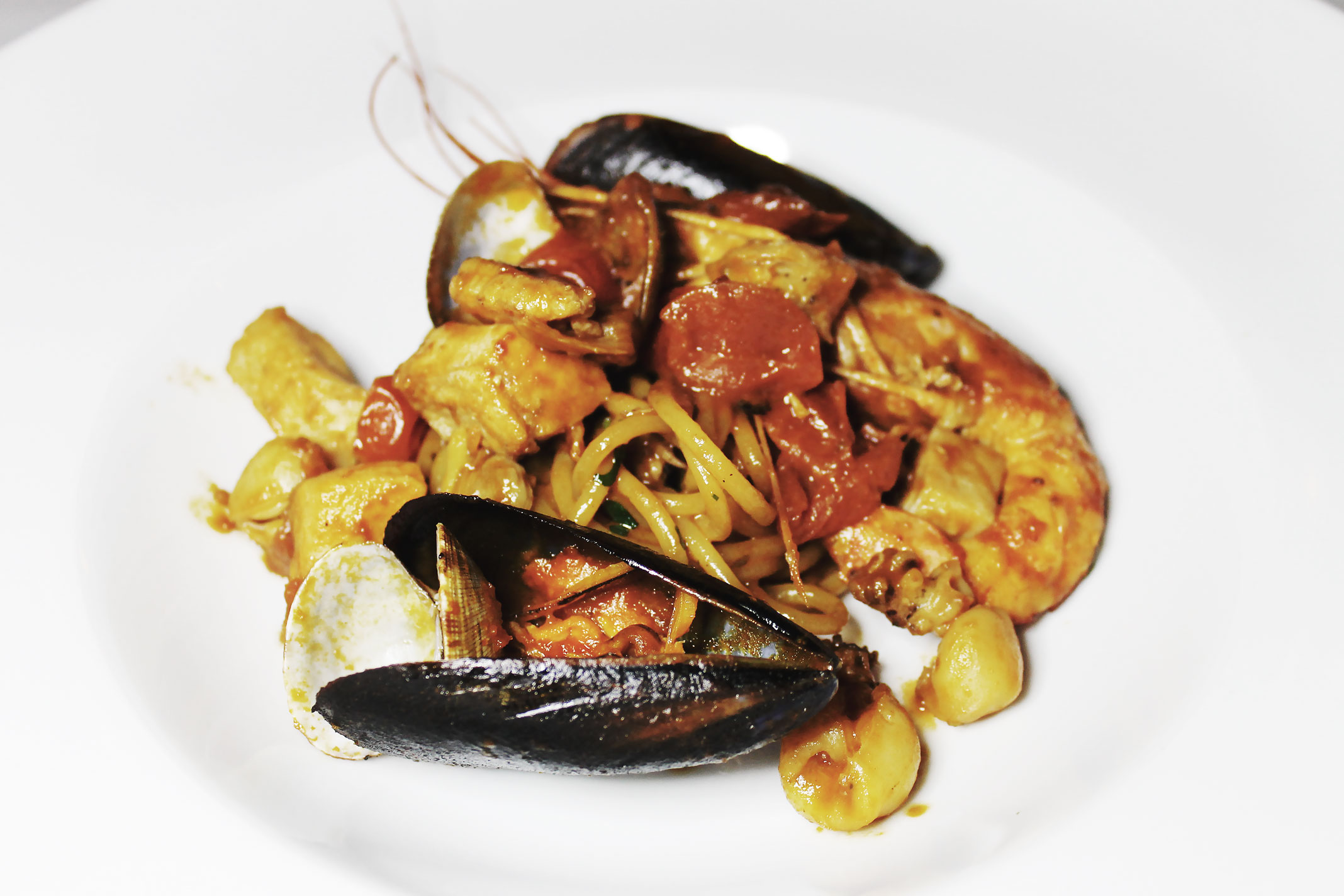 The second pasta was the spaghetti frutti di mare which had fresh monk fish, clams and prawns. I was in awe with this pasta because I barely saw any spaghetti as it was buried under all the glorious, gratifying seafood. Clearly this is a very nice problem to have! The pasta texture reminds me of those that my husband and I tasted in Italy where they felt more hearty, heavy, and thick. It certainly feels like homemade pasta. I appreciate how the dish was made to maximize the flavor of the seafood accentuating its natural flavors.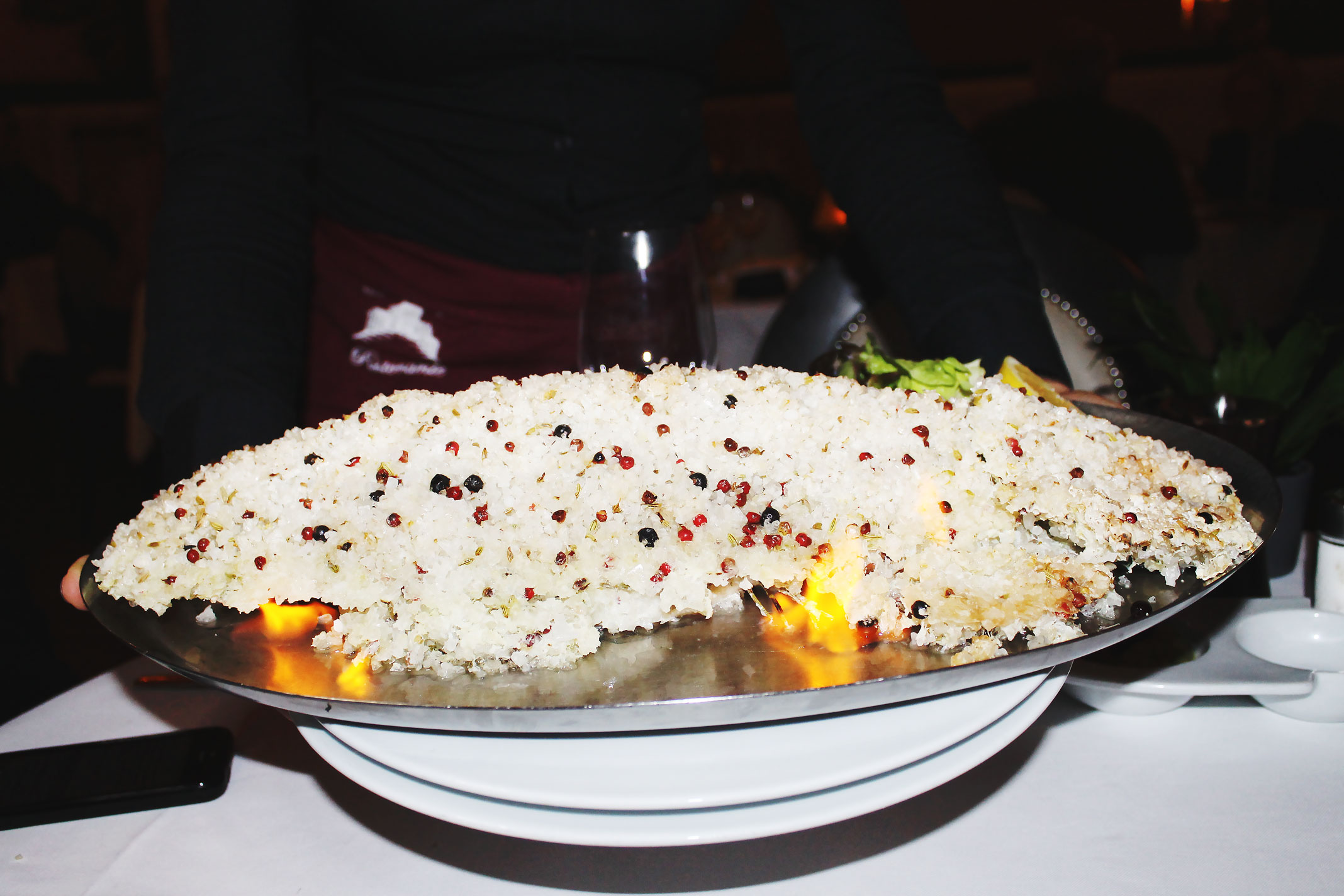 Our main was a large, delectable salt crusted sea bass from Marano Lagunare, which is in the north east region of Italy. It was presented flaring on a large platter on fire, quite uniquely presented! Once the fire was extinguished and the oohs and aahs concluded, it was brought to the side to be filleted and deboned professionally. It was also served with a side of spinach and potatoes. The sea bass was very delicious and fresh. The tasty fish was so soft, juicy, and extremely fatty. It was a very generous amount of fish as my husband and I shared it and we were full.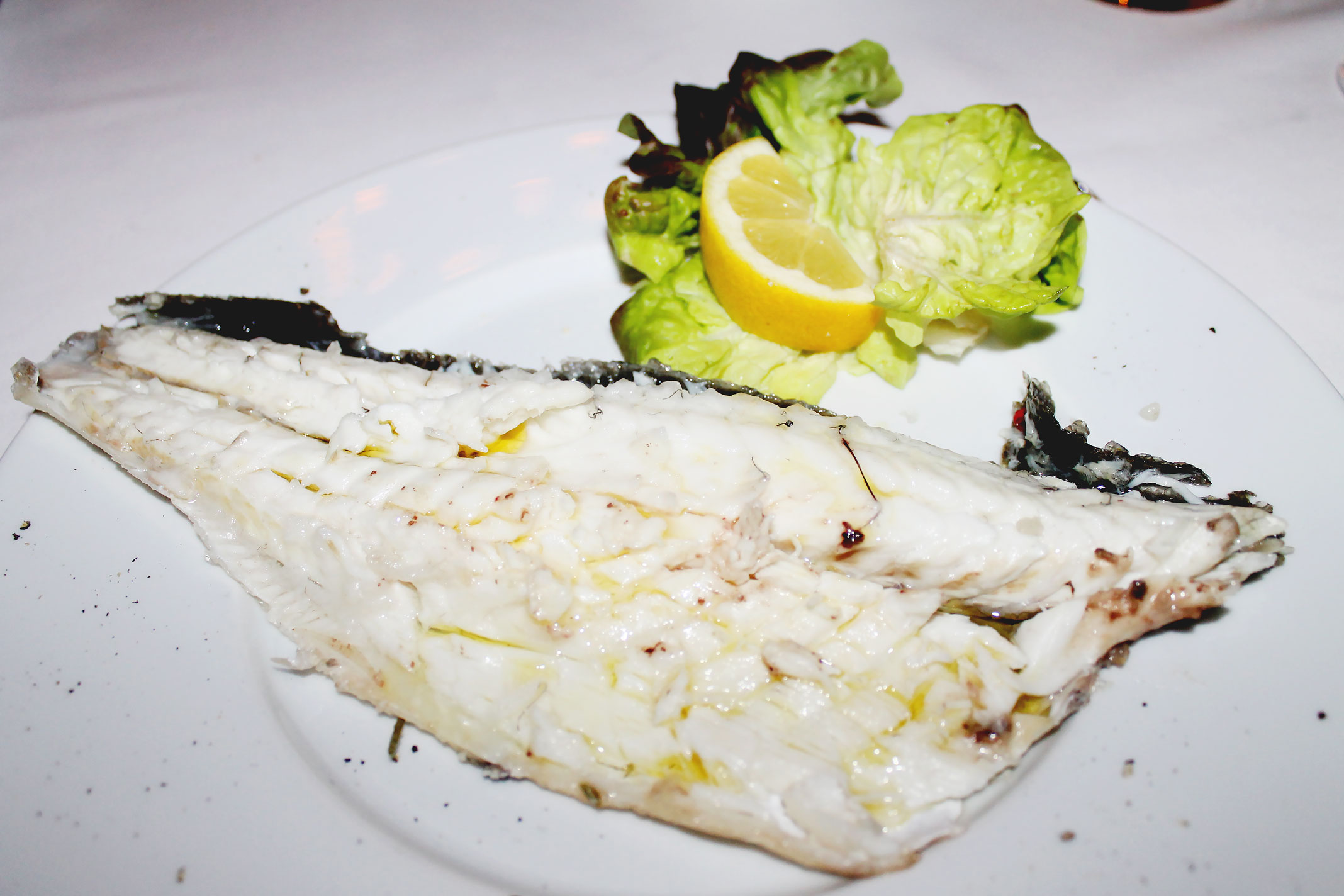 At the end of our mains, we received a divine lemon sorbet to clear the palette. We ordered two desserts: A soufflé di cioccolato and a curd cheese fruits with marzipan coat and chocolate sauce. We decided on these two in order to experience both a modern and a classic dessert. The soufflé di cioccolato was essentially a warm chocolate soufflé on bailey's sauce. I would describe the chocolate as a blend between dark and milk chocolate. It's also sitting on white cream, chocolate, and raspberry sauce. I am thankful for the gentleness this dessert brings. It's so delicious that I found myself wiping the plate clean.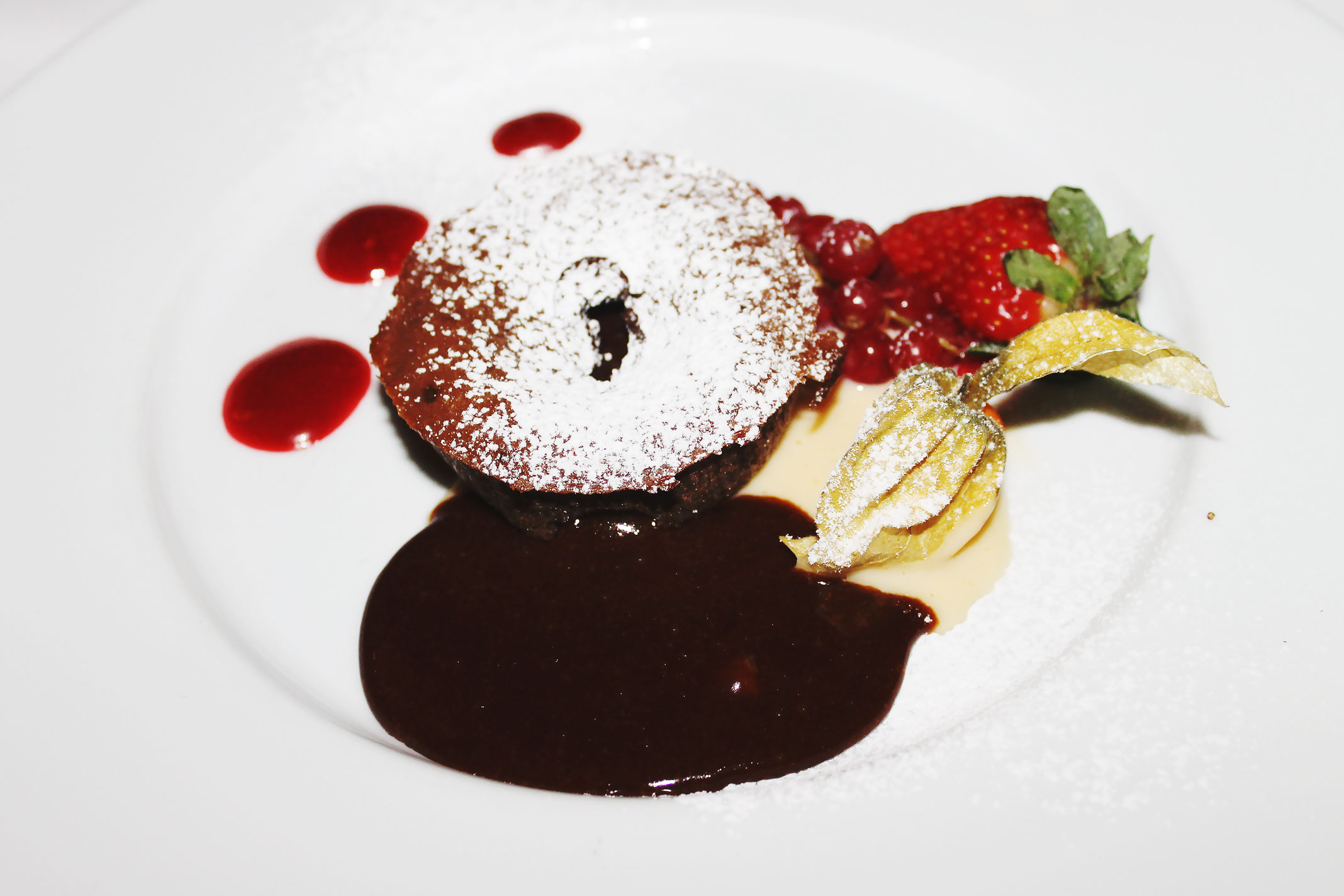 The curd cheese candied fruits in with marzipan coat with chocolate sauce was a typical Sicilian dessert. It was a hard contrast in comparison to the soufflé as it was a tarty dessert. The cheese enveloped by the marzipan was so soft, gentle and creamy. The marzipan flavor was quite strong and it contributed towards the fullness of the cheese. Mix it with the chocolate cream and it becomes a wonderful combination.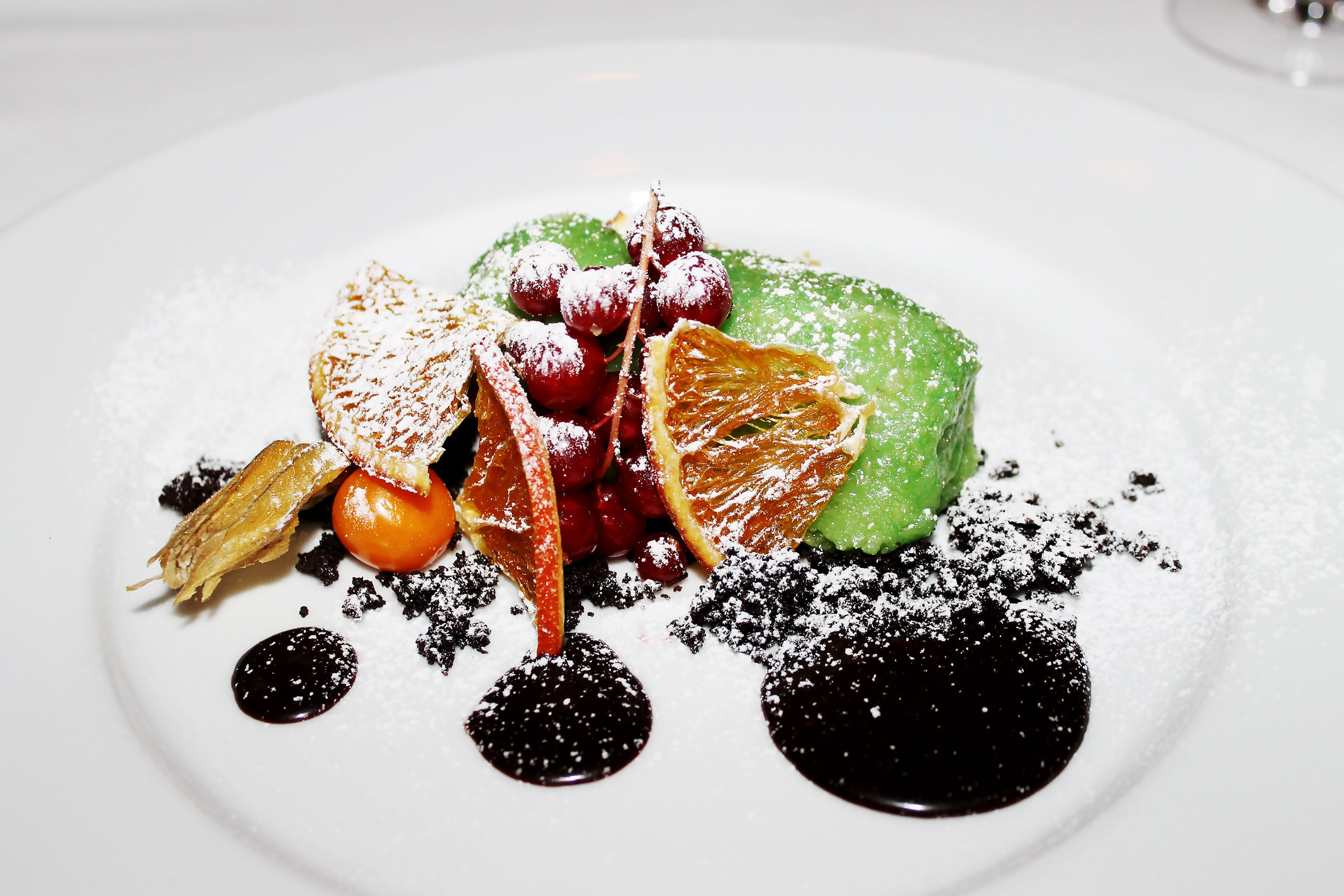 To conclude the evening, I had an Italian cappuccino… we were in an Italian restaurant after all! My husband doesn't drink coffee so Carlo gave him something special. Carlo was entertaining and playful as he knew exactly what to give my husband. He came back with a bottle of "Milk of Mother-in-Law" which consisted of 70% alcohol. Carlo and my husband took the shot together where he laughed at my husband's reaction. He truly makes the environment of Al Borgo so enjoyable. My husband described the drink as a very slow movement of heat going down to his stomach. Shortly after, Carlo brought another drink, a red liquid with the same alcohol percentage called Sensazioni dell'Etna which he thought was remarkably unique and featured an exploding sensation on his insides. Throughout the evening, we heard laughter among the customers. It was such a lively environment and Carlo was usually in the middle of it all.
If you've fallen in love with the Italian hospitality and cuisine, Al Borgo restaurant in Vienna is a safe haven to bet on when you're craving for authentic Italian while you're on your travels in Austria.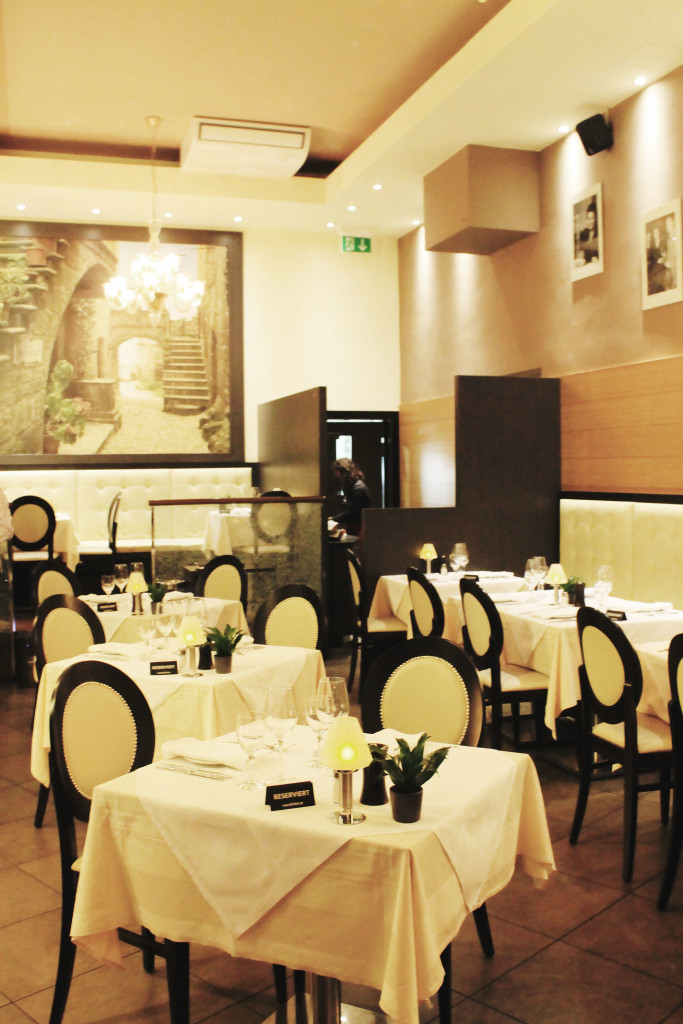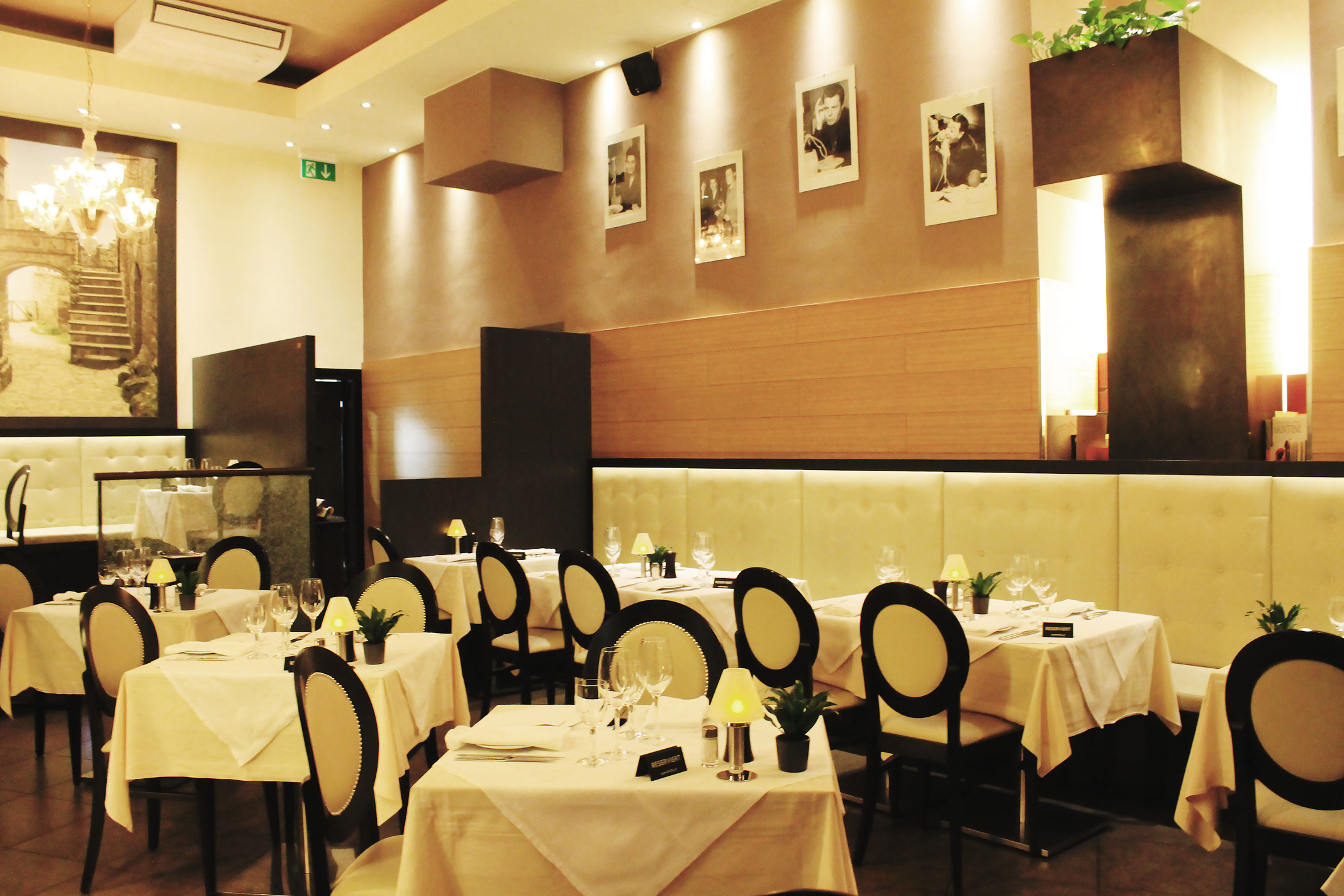 Thanks to Restaurant Al Borgo | An der Hülben 1, 1010 Wien, Austria | +43 1 5128559