Hello Fabulous Vacationers!
Welcome to the second part of my Photo Diary featuring my recent visit at the beautiful Lake Gregory (read Part One here).  Located in the town of Crestline, CA, Lake Gregory is tucked in the cool cedar and pine forest of the San Bernardino Mountains.
Now I would like to share with you all the fun things to do in Lake Gregory. Since the lake is relatively small, when compared to Lake Arrowhead, the list of activities reflects that as well.
When driving to Lake Gregory, you can't miss the beach area as that's the first thing that greets you. Lake Gregory beach areas are only open during the summer months ending on Labor Day weekend on September. So if you arrive on the middle of the day, you'll see many people  swimming and enjoying fun sports activities at the lake. It took some time to learn what activities are available for me to do as there are no signs showing the prices and options at the beach entrances. Hungry for more information, I had to speak with some locals where I discovered that there are several areas around the lake where you can relax and play. They were very nice and welcoming so don't be shy, say hi!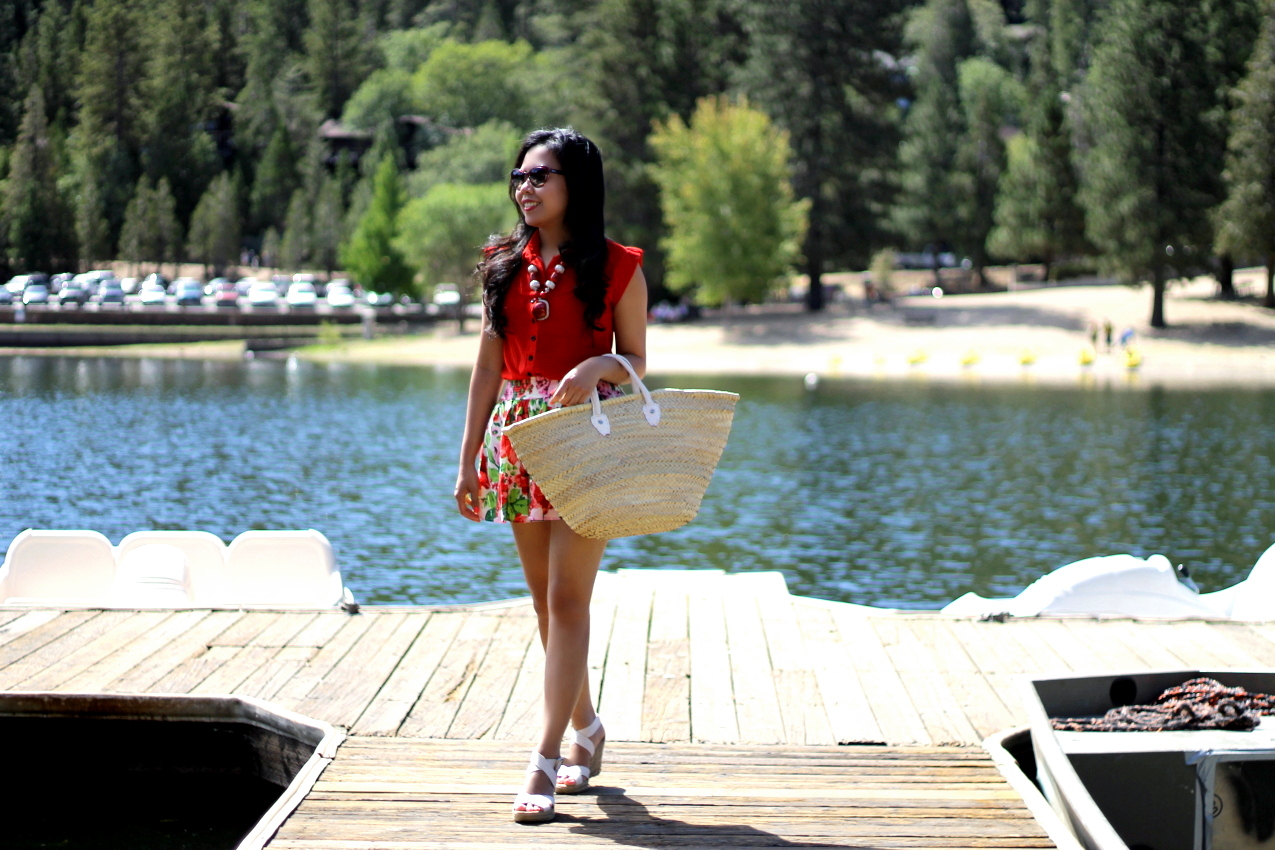 I feel that one of the best ways to enjoy the natural beauty is by getting out in the middle of it.  Isn't summer the time for water sports?  I noticed that here in Lake Gregory, anyone can rent almost any kind of watercraft from two businesses on the lake. The two businesses are the boathouse, which isn't very difficult to find as it is visible from all around the lake as the sole dock on the lake, and the beach, with two separate entrances. Both places are independent of each other as the boathouse opens earlier in the day for those wanting to fish early in the morning. The boathouse is also open beyond the summer months, but the details  changes every year.
Here are some clear differences between the two businesses. The beach charges an entrance fee and it is the only place to rent kayaks, water cycles, paddle boards, and canoes for additional cost. You can also use the water slides for an added cost as well. Paddle board use and slide access can be purchased as full day so those have the best value. This place is great for kids as there is also a small water playground near the slide. Sadly, there is no way to rent kayaks, water cycles, paddle boards, and canoes without paying the entrance fee. This makes the activity less desirable if the group only wants to do those activities. The boathouse holds a dock full of fishing boats, row boats, and paddle boats.
If you plan to go enjoy the lake for only an hour or two, I would recommend coming here instead of the beach. There is no entrance fee and the prices to rent these boats are very cheap. I think the best part in renting these boats is that you can take the boats to the fountain where you can get sprinkled or doused (up to you on how wet you want to be). It can get pretty hot up there so riding close to the fountain will definitely be refreshing. Of course, who's to stop you in putting your feet in the cold water.  Ah wonderful!  So for quick reference, I came up with the Top 5 Water Sport Activities to Do at Lake Gregory in Summer:
Water Cycles. These are pretty cool as they are tricycles which super huge tires! You get on them on the beach and pedal them right onto the water.
Paddle Boards. These are great and cost effective as you can rent them for a pretty cheap price for the entire day. You can easily use these to swim across from one beach to the other beach across the lake.
Kayak, Canoes and Pedal Boards. These are the classic small lake activities. Lake management does a great job in separating the swimmers and the boaters at the lake. So make sure you follow the rules as well!
Rowboats (with/without motor, this is pretty cheap as they are available for half/full day. So if you're into fishing on a boat, this is definitely for you!)
Swimming on the Beach. Though the beach has sand, it could get pretty muddy and mossy inside the water. So be aware and be careful!
When I went, the beach entrance fee was $5 per person. Make sure to bring your own beach gear, like umbrellas and camping chairs, as shaded areas don't exist on the beach and it can get pretty hot under the sun. My group didn't go into the beach area this time as we had plans on swimming in Lake Arrowhead (more on that on my next blog post) so we decided to rent pedal boats instead! Actually, we wanted to rent kayaks but, because of the beach entrance fee, we didn't want to anymore as we only wanted to be there for a short amount of time.
After pedaling the boat to the middle of the Lake, I dangled my feet in the cool lake water.  It was absolutely refreshing!  It was so relaxing to just sit still and bask in my surroundings.  So different from my urban lifestyle!
I wore a breezy chiffon collared sleeveless blouse that matched my genuine stone ethnic jewelry necklace!  While in the middle of nature, there is nothing surprising in fashion designers using natural materials in their creations. We all have brought ethnic jewelry from different destinations. Now it's time to wear them.  No need to tell a fashionista how important jewelry is!
I woke up early in the morning to take a walk around the lake.  Built with style and comfort, my Gap espadrille wedge shoes did the trick.
There are some fantastic hiking trails accessible close to the lake, as well as some excellent hiking trails in the surrounding area.  I also noticed that this is also a great place for those who enjoy fishing since you can fish from the shore all year around.
Outside of the swimming area, visitors will find excellent fishing locations for trout, catfish and bass.  Yum!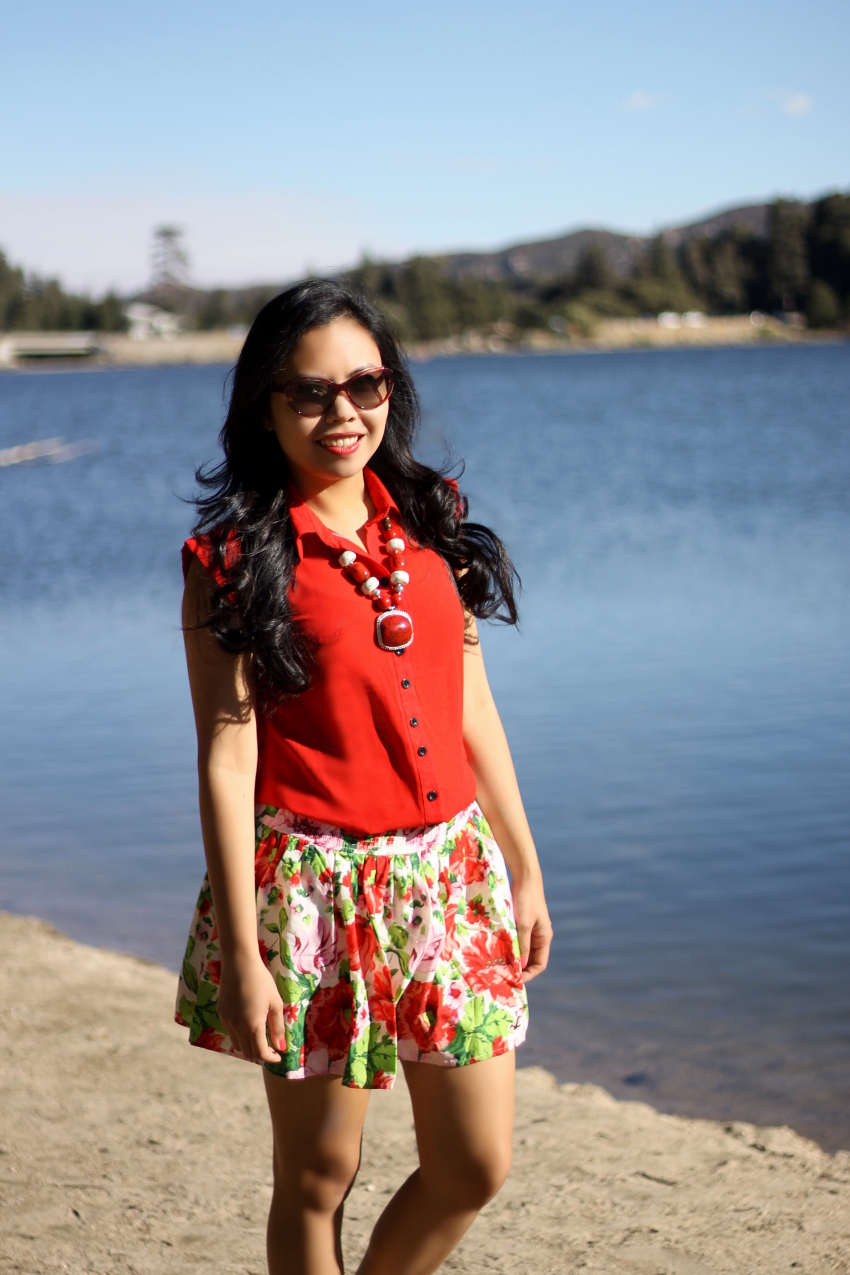 Style Details
Blouse :: Red Sleeveless Chiffon Blouse (similar on sale here, here & here!)
Floral Skirt :: Hollister (this one's adorable too / in floral peplum!)
Woven Beach Bag :: Gap (similar / look for less)
Espadrille Wedge Shoes :: Gap (love this / similar)
Genuine Stone Ethnic Jewelry :: Gifted from the Philippine Islands (look for less)
Cat Eye Sunglasses :: DKNY (cute one by Marc Jacob's here)
I love the surrounding environment:  Peaceful and calm, charmed with friendly people.  So pretty… such natural beauty is preserved wonderfully!  What a definitely nice place to spend the weekend!
Facebook :: E-mail :: Twitter :: Bloglovin :: Lookbook