Touring some of the finest cities have been lovely and truly relaxing. Here I have discovered yet another beautiful accommodation which made me appreciate how incredibly blessed we are here in Southern California.
The Grande Colonial, La Jolla's jewel, was the perfect place to be this past Columbus Day weekend. The weather was perfect for exploration and relaxation. I was very happy to have had the opportunity to stay at this historic hotel, nearly 100 years after it first opened in 1913!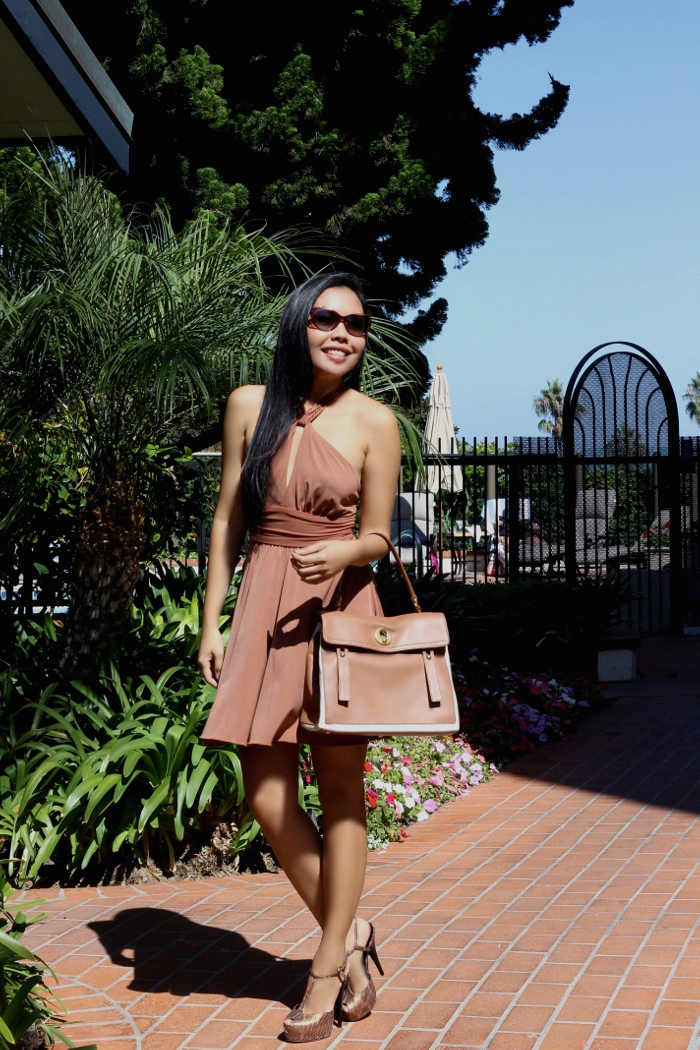 This very ground that I am standing on is the first hotel that was ever established in the flourishing seaside city of La Jolla.  I can truly sense this place is deeply rooted in the community since it is evident that locals try to preserve its beauty.  Upon roaming around town, I discovered that everything seems to be walking distance from this hotel.  It goes to show how much this place is truly located at the heart of downtown La Jolla.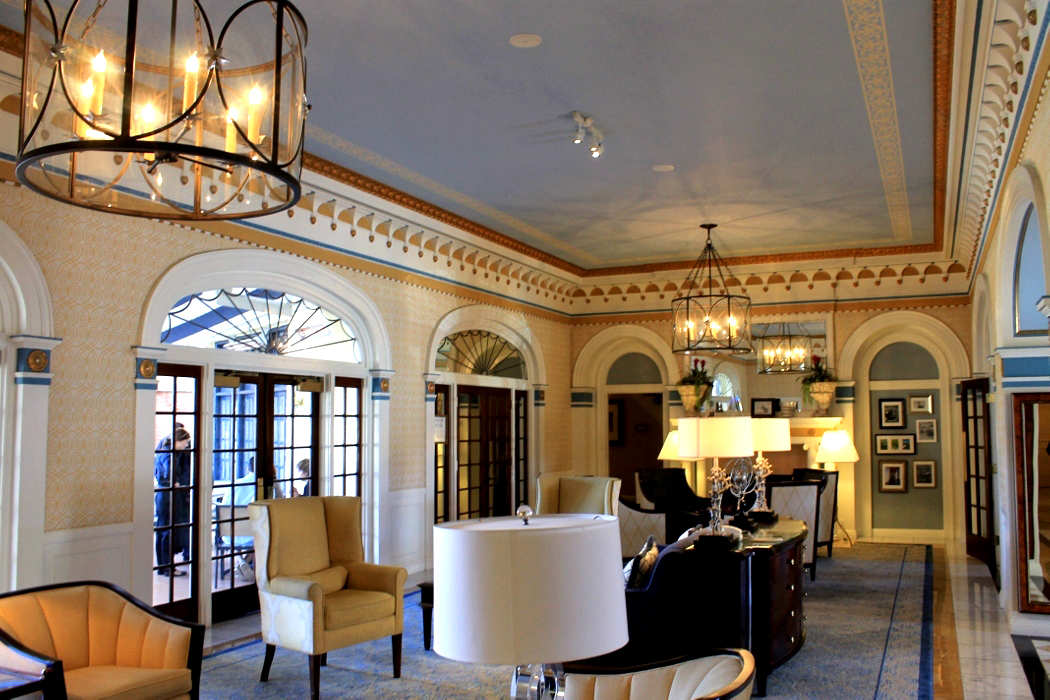 The Grande Colonial, the coastal town's oldest original hotel (part of the registry of Historic Hotels of America), underwent a vast renovation a few years ago while prioritizing the preservation of its original architecture such as the original Georgian arches, original cast plaster crown moldings, lead glass windows and intricate hand-stenciled ceilings.  The restoration was so successful that it received the "People in Preservation" Award from the Save our Heritage Organization.
While I enjoyed the accommodation, I felt as if I was part of its beautiful history.  As I explored around the grounds of the hotel, I can almost feel the richness of its yesteryears.  Old Hollywood glamour walked these very paths including Jane Wyatt, Eve Arden, Pat O'Brien, Dorothy McGuire, just to name a few.  At one point, this hotel was a temporary home to some of Hollywood's up and coming stars that performed at the La Jolla Playhouse.
I think it was a perfect fit to wear a hue that spoke of unconscious beauty, which I felt was truly a reflection of the landscape of this hotel.
Stunning in its simplicity: a crisscross halter dress in an Old Rose color, made of a lightweight chiffon.  It's an ideal beach-wedding attire, perfect for La Jolla Beach's premiere wedding venue, The Grande Colonial.  Old Rose has always been a favorite of mine, much more so now that Rose Gold has been in the scene for the past few years. Here's some Tips on How to Easily Wear Rose Gold: 1.  Pair it with copper.  I chose mine to be monochromatic old rose and copper hues, similar to my latest monochromatic style feature at LaurenConrad.com here!
2.   Accessorize. Jewelry is the easiest way to put in some rose gold in your outfit.  A classic and timeless piece is all you need, like my favorite ring in rose gold.  I wear it all the time!
3.  Mix & Match. If you noticed, my heels are a mix of pink and brown hues, with black detail.  Rose Gold wears great with neutrals, as well as a variety of hues in gold tones.
Glamour was definitely in the air and the ambiance was breathtaking when entering the lobby. Fireplaces with marble hearths were beautiful details which contributed to its coziness.  Natural sunlight drew in the hotel complementing the "sunburst" design of the windows.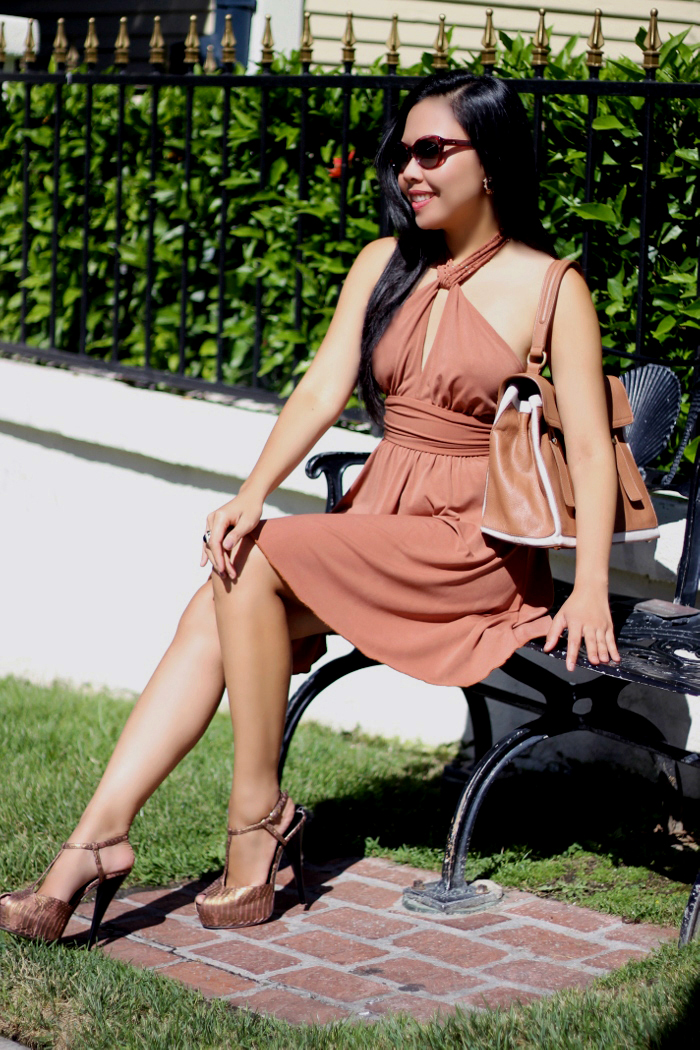 Style Details
Dress :: BCBG (similar)
Heels :: Giuseppe Zanotti
Purse :: Yves Saint Laurent
Jewelry :: Rose Gold & Onyx Earrings & Ring by Prestige s.r.l.
Sunglasses :: DKNY (similar)
I spent some time here reflecting and take in the marvel of it all. :)
Facebook :: E-mail :: Twitter :: Bloglovin :: Lookbook