Whenever I visit a new city for the first time, I usually try not to choose a chain restaurant.  Personally, I just love the charm of mom-and-pop restaurants!  They make me feel like I am making the most out of my experience while, literally, taking in the cultures and flavors they have to offer.  Trying new things require an open mind and a sense of culinary adventure.
Weekends are usually the time to be adventurous in food and this road trip to Ojai gave us a lesson in why independent eateries still dominate!
I like the way downtown Ojai is laid out.  You will discover the best restaurants and shops are all walking distance.  And that's where I got to enjoy Feast Bistro.  It opened six and a half years ago.  The owner, Chef Susan, is originally from Chicago where she grew up having culinary influences from great cooks:  Her mom and grandparents!  She has been working as a chef for the past 27 years where she mostly worked in distinctive Italian Restaurants.
I asked what her inspiration was when she opened her restaurant and she said that after working with many chefs in the past, you naturally start to play with the idea of being the chef too.  She was just waiting for the right time to happen… and it did!  I guess the opportunity of having it at Downtown Ojai was too good to pass up!
The ambiance in the restaurant was quite homey.  The décor was cozy while reflecting the warm personality of the owner.  It looks like it can foster a great social environment as there is space for big dinner parties as well as outdoor seating at the courtyard.  It was a lovely surprise to discover that the restaurant used to be a bookstore and the arcade area where they are located in Downtown Ojai is actually a historical landmark.  Chef Susan did a great job in making her restaurant flare in her personality while respecting the design limitations of being on a historical property.
In this beautiful restaurant, she envisioned a truly American cuisine where the uniqueness of other cultures are incorporated into the melting pot that is Feast Bistro.  With that kind of variety, it's no surprise that the restaurant changes the menu four times a year!  Changing the menu keeps the people and staff energetic and excited to experience the variety of the menu.
We had their tasty pulled pork, her most popular dish, something she's been making for the past 20 years!  She ended up being one of the first chefs to serve pulled pork in the area.  She serves them uniquely without sauce therefore concentrating on the natural pork taste of the dish.  However, they do have a wide variety of BBQ sauce and hot sauce for their guests who prefer it according to their liking.  I also ordered the special frittata of the day which was a mix of zucchini, potato, spinach and onions, with a side of the most gratifying veggie potato.  It was unique and delicious!
I don't know about you but I've always loved a fresh homemade carrot cake.  Their homemade carrot cake doesn't just look amazing… it tastes amazing!  Such a decadent treat.
The service was pretty phenomenal.  They take care of all their customers in a friendly manner and it showed as most of the customers looked pretty satisfied leaving the eatery.
Chef Susan truly left a lasting impression.  I believe that when we pursue our dream, it can take us to places we never even have imagined.  I honor her for sharing her talents in cooking through the exquisite restaurant that is Feast Bistro.  What an inspiration to us ladies!
Style Details
Cardigan :: H&M (similar here & here / this one's fabulous!)
Blouse :: Thanks to My Mom! (similar / look for less)
Shorts :: Gap (similar in brown)
Heels :: Miu Miu (similar)
Purse :: Gucci (love this)
Jewelry :: 14k Yellow Gold & Onyx Cocktail Ring by Prestige s.r.l.
Flower Bib Necklace from a trip in Asia (similar here)
Sunglasses :: Prada
Summer is officially over but we are still definitely experiencing some crazy heat waves in California.  The ever-changing weather this season has been so tricky and the easiest way to transition fall is really just wearing light sweaters just like what I wore here.  I've compiled a some pieces that I feel are chic to transition to this fall:
1.  A Black Sweater Dress by Marc Jacobs (here)
2.  Tory Burch Classic Cashmere Cardigan (here)
3.  Chic Wool Sweater Dress by Theory (here)
4.  Kate Spade Fun Colorblock Sweater (here)
5.  A Simple but Fabulous Black & White Sweater like this one by DVF
Now that the departure from summer doesn't seem so bad, I encourage you all to visit Ojai this fall and make sure to stop by Feast Bistro.  Though their busy season is from October to June, you will surely not be disappointed!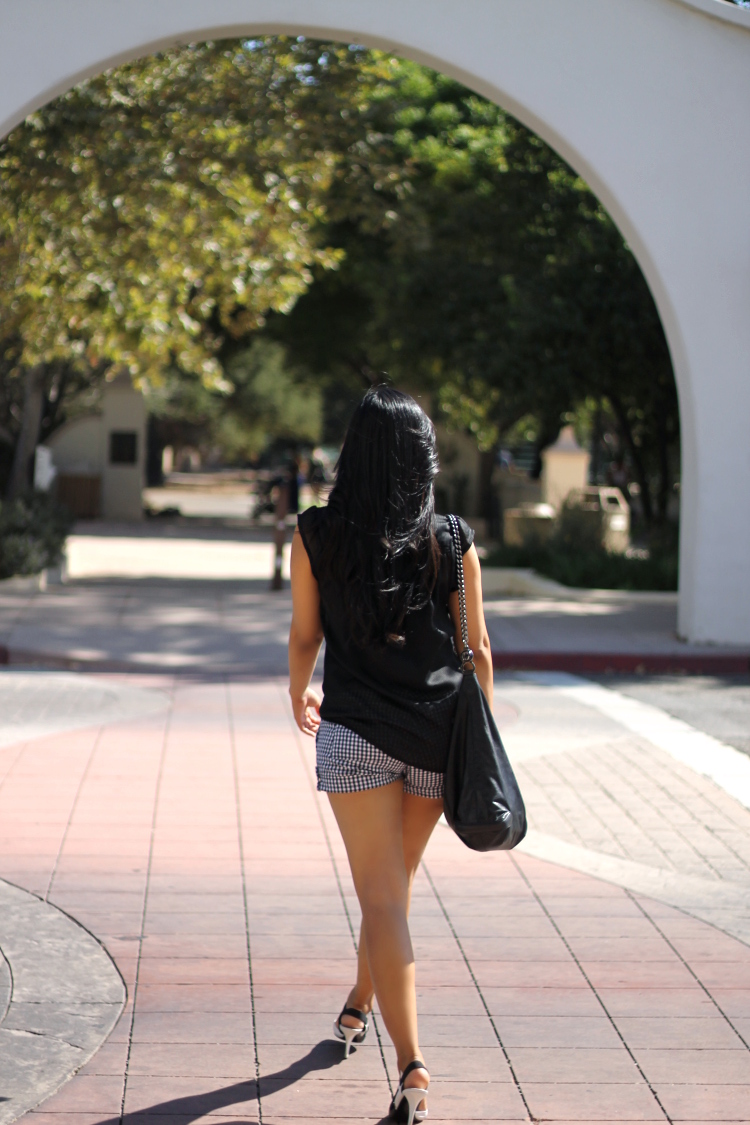 Feast Bistro :  254 East Ojai Avenue, Ojai, CA 93023
Where to Stay?  The Emerald Iguana Inn (read my reviews on this lovely hotel here & here)!
 Facebook :: E-mail :: Twitter :: Bloglovin :: Lookbook