I am always on the lookout for the freshest and organic fare and this one I'm about to share with all of you did not disappoint!
The weekend is here and it's time to feature yet another savory cuisine… in style!  Now, La Jolla Street Style speaks of two words:  Casual Elegance.  Here I am wearing a simple but chic pencil cut dress. Did you know that the "pencil cut" has been a wardrobe staple since the 1950′s?  Trivia:  The pencil skirt was created by French designer Christian Dior!  The floral pattern is pretty springy but as California beams with sunshine, I like to add a pop of color or a blooming design to match the sunny fall weather.  Come join me in my latest food trip here in the beautiful city of La Jolla!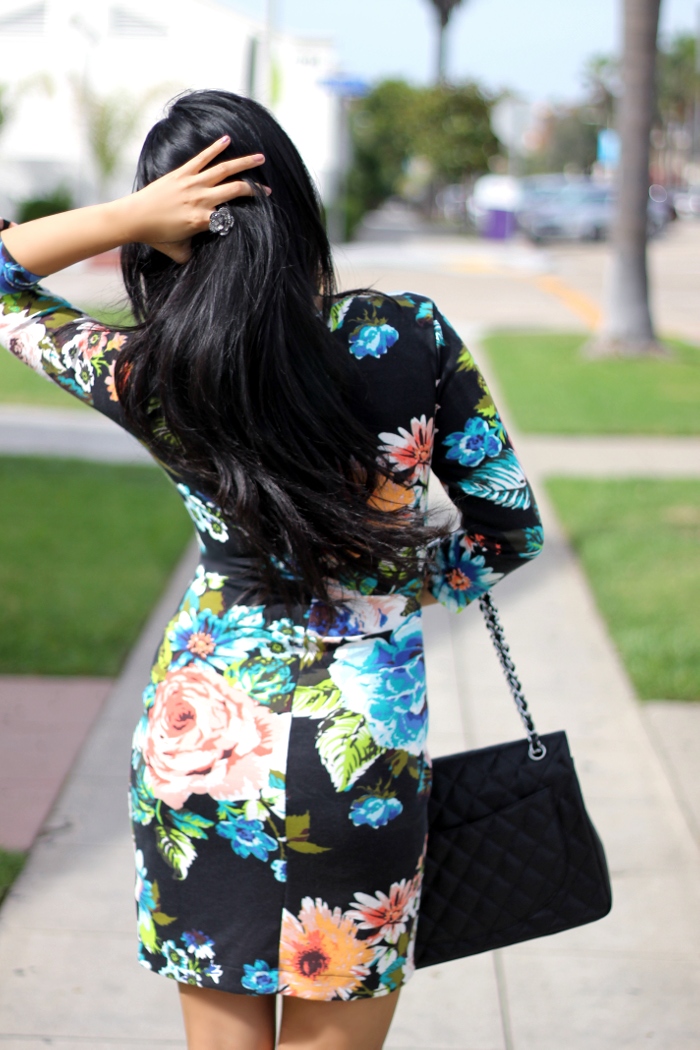 As simple as this cozy café is, Rimel's Rotisserie definitely emits its strong unique character. The passion and vision of the The Rimel Family is evident as its interior design was bursting with personality.  You can tell that the exquisite lovely painting below has materialized and turned into reality.  Rimel's is a happy, bustling place that locals frequent.  It made me wish that they would open one in my own neighborhood.
During my meal, there were many people who came in to take their food to go. It made me realize that the food at Rimel's Rotisserie would make a lovely picnic at the beach.  It is, after all, just steps away!  I also felt the local charm as the waitress, Courtney, seem to know everyone by name!  Of course, it being a popular local's spot, its fun to also chill, relax and enjoy a peaceful food adventure experiencing the local vibe of the beautiful La Jolla scene.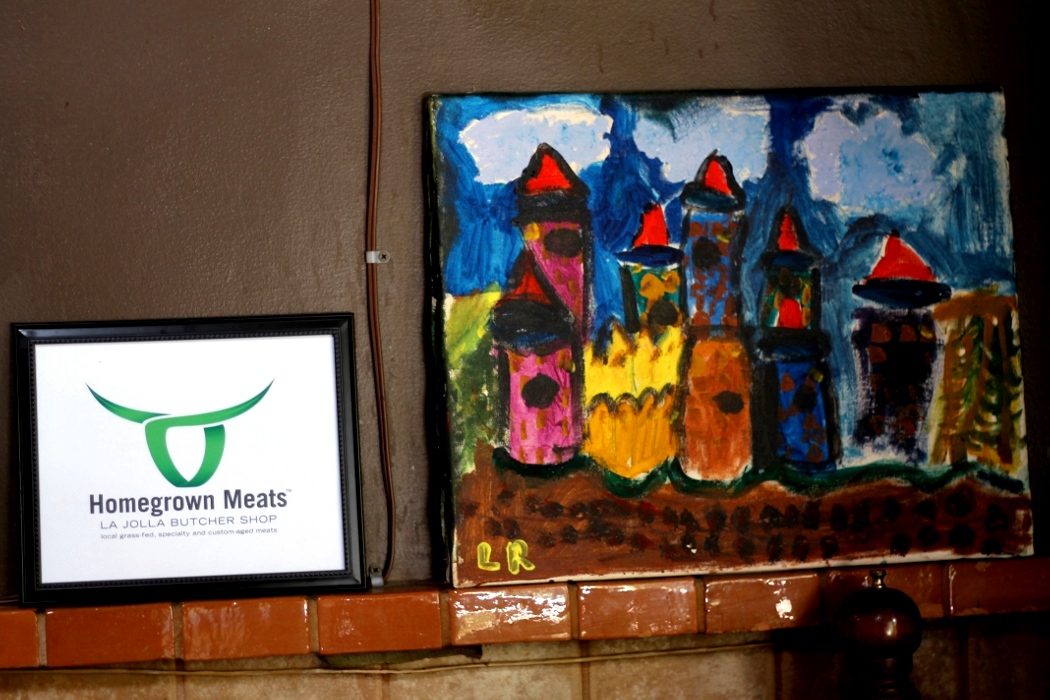 Rimel's is known for a bountiful of good features.  First, you can bet that Rimel's get the freshest fish everyday.  I was definitely eyeing their locally caught halibut!  Second, as the name suggests, it boasts of their popular healthy organic chicken dish.  Initially I thought, "How good can rotisserie chicken get?"  They definitely made their mark with their homemade sauces!  Third, you can find here your best chance of the greatest Baja lobster that's big, fresh and delicious!  Although, this was their special for the day, I'm happy I got to enjoy this entrée.
Such a memorable experience:  That feeling of discovering a restaurant that you know you will come back to, and that you are sure to tell your friends about.  Simple yet so delicious.
Not only was it delicious, it was also a healthy meal!  There are truly benefits in prioritizing to eat healthier.  Organic chicken is grown without artificial fertilizers and pesticides.  It contains more omega-3 fat, which can lower bad cholesterol.  Of course, I think the humane treatment of chicken is also a reason enough to go organic too.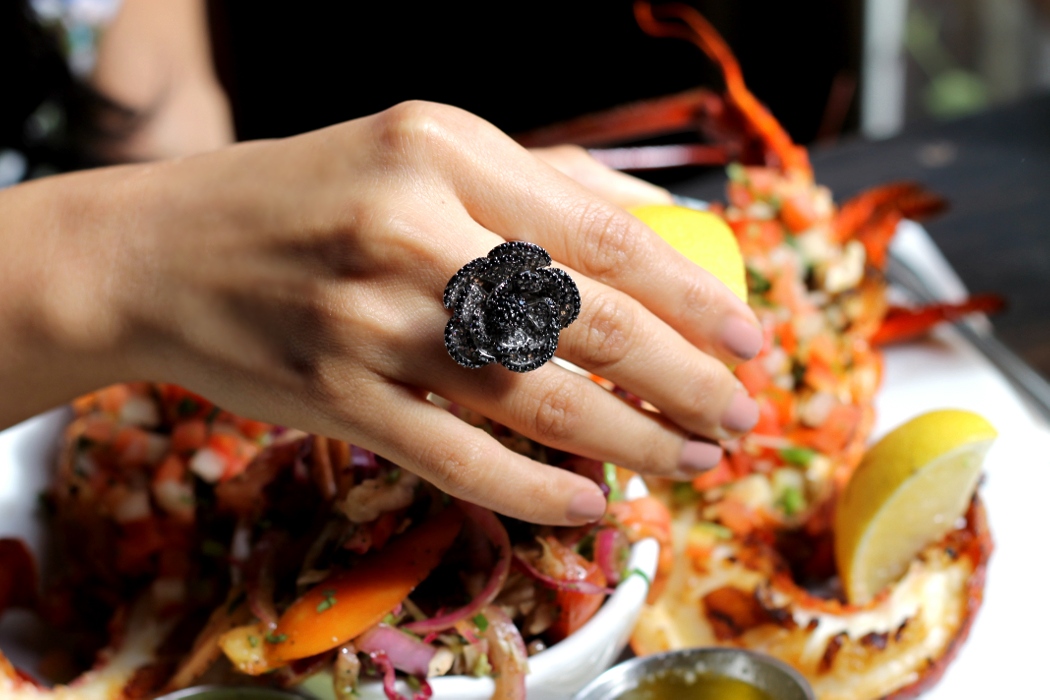 Here's another fun fact:  The owner enjoys hunting & surfing and you can see all that with their showcase of ceiling art in the restaurant.  I believe a unique interior design will differentiate you from the ordinary restaurants and Rimel's definitely made their distinction with their impressively strong appeal. 
Rimel's serve their dishes with Asian and Mexican influence.  They have an array of impressive house made sauces I got to try.  When you go, you must try Rimel's Green Chile Garlic Sauce.  It's so good that it's being bottled for grocery shelves!
With everything as good it has been, they just had to serve their famous homemade chocolate cake too!  Now, I'm not much of a chocolate cake person.  But theirs is so decadent!  Every single bite was yummy.  I actually feel very hungry right now while I'm writing this.  They were also thoughtful enough to give me a small glass of milk with it!  That was such a nice gesture.  I felt like a kid eating my grandma's homemade afternoon treat.  It was the perfect dessert… moist and flavorful.
All in all, I am a pretty satisfied customer.  They just earned another fan in their plethora of great reviewers from yelp.  Exceptional food plus service to match!  I will definitely be back to have their other delicious dishes like their fresh fish of the day, chicken tacos or maybe one of their popular rice bowls!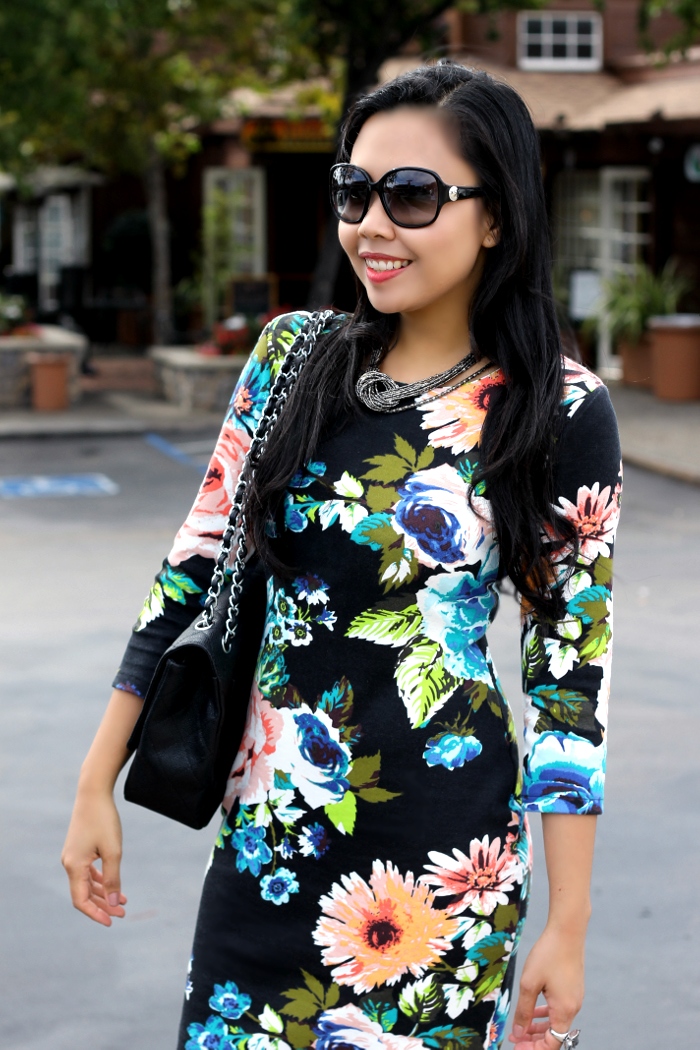 Style Details
Dress ::  H&M (similar / love this one here by Jean Paul Gaultier / look for less)
Purse ::  Chanel
Heels ::  J. Crew
Jewelry ::  Sterling Silver Flower Cocktail Ring (similar)
Sunglasses ::  Marc Jacobs (similar here)
It's nothing swanky… Just simple, homemade, organic fare that's guaranteed to be fabulous!
Rimel's Rotisserie - 1030 Torrey Pines Road, La Jolla, CA 92037
Where to Stay?  The Grande Colonial Hotel, La Jolla 
 Facebook :: E-mail :: Twitter :: Bloglovin :: Lookbook