Hello everyone!
As promised, here's my review on my visit to the Red Rock Canyon in Nevada!  I have been to Vegas many times and I never knew about this Canyon until my recent stay at the Red Rock Resort. Not only is it a few minutes drive from the resort, it's also very easy to get to since it shares the same main road as the resort. You know you're going the right way when you see this!
Check out the beauty of the spectacular desert landscape and sandstone peaks!  Pictures speak louder than words.
I really adored seeing the magnificent natural beauty of the Red Rocks.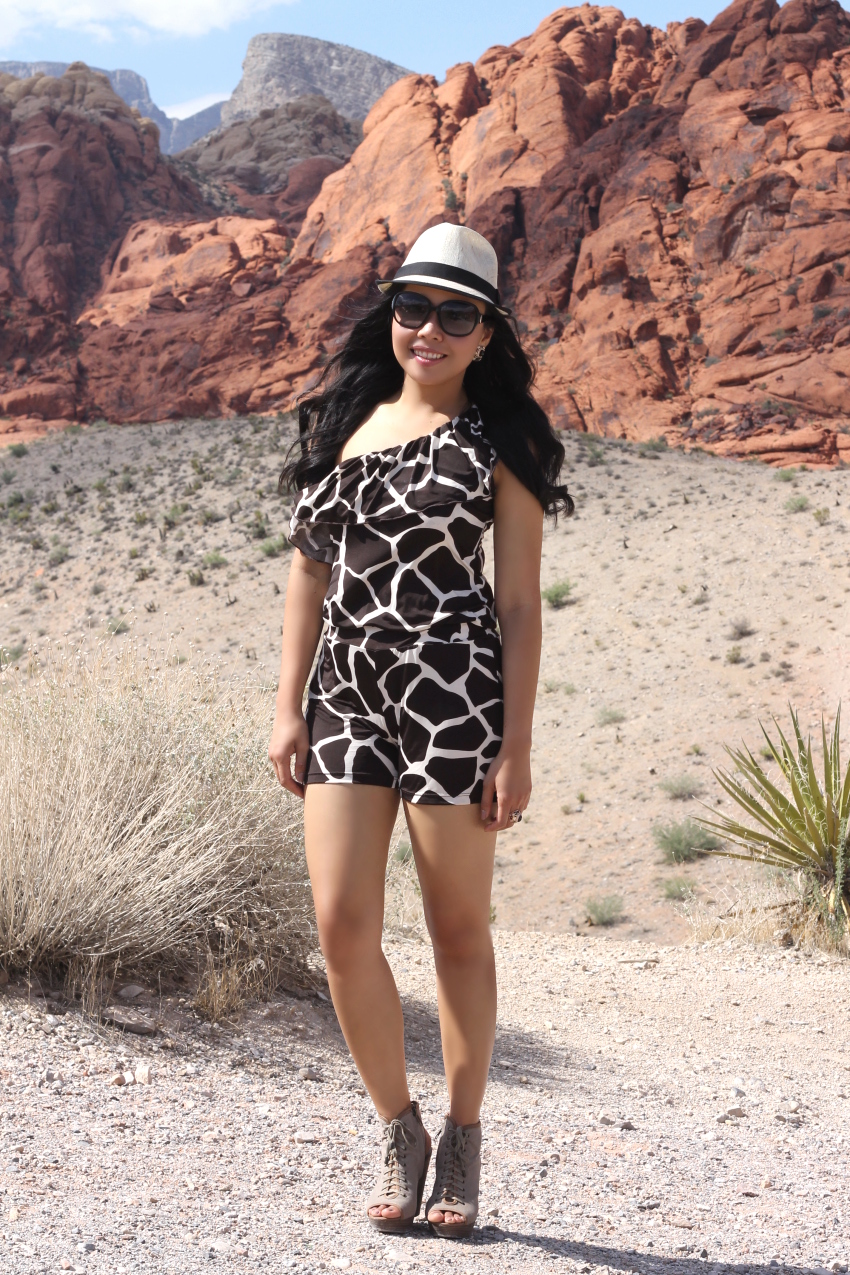 I pulled over to Calico Hills I and II (the first two trails) which is an excellent overlook if you're short on time because you can climb on the formations and be practically "on" the "Red Rocks."
I inquired at
Red Rock Resort
's hotel concierge before coming and they were certainly very accommodating and helpful. They also gave me an information sheet about the canyon.
QUICK FACT:  This area used to be part of the deep ocean basin and the earth's movements caused this sea-bed to rise slowly.  When it got exposed to the atmosphere, it oxidized resulting to these red-orange beauties.
When entering the national park, you'll be immediately greeted by the visitor center.  It is a brand new nature observation area that features extremely well put-together collection of artifacts, photographs, scenes of the ancient inhabitants of the area, and a desert tortoise habitat (a good place to stop by if you do not want to take the scenic drive around the canyon).  I am an adventurous girl so I obviously wanted to experience it all. :)
I started the driving tour by entering their Scenic Loop Drive (fee is $7 per car to enter the park but really worth it).  The 13-mile scenic stretch is a one-way road around the canyon which allowed me to enjoy the breathtaking mountains from different angles.  As hot as it was… I was surprised to see a lot of bikers riding there.
While I didn't get to see any wildlife, there are plenty of tortoises, mountain sheep and wild burros in the desert.  Apparently, there are waterfalls out there too!  How amazing is that? Watch out for Mojave Max (a local desert tortoise in the area).
Knowing that I will be surrounded by some unique geological features, plants and animal life, I want to complement with the environment by wearing my cow print one-shoulder romper.  It is made of breezy material which makes it perfect for a warm-weather outing like this.  I knew that wearing some comfy shoes is a must but I didn't want to sacrifice any style, therefore, I opted to wear a comfortable pair of wedge shoes made of canvas cloth instead of leather.
There were several parking lots for vista points along the canyon road which allowed access to wonderful views.  Here in Red Rock, I was in awe with the gorgeous large red rock formations.  It totally reminded me of a trip I did a couple of years back in Sedona, AZ.
Style Details
Cow Print Romper :: From a LA Boutique (similar in classic black / white / also cute here / hot pink / look for less)
Booties :: Steve Madden
Fedora Hat :: Retro 7 (similar here / look for less)
Jewelry :: Rose Gold & Onyx Earrings & Cocktail Ring by Prestige srl (similar / look for less here & here)
Sunglasses :: Marc Jacobs Oversized Square Sunglasses (similar / love this one too / look for less)
Tote Bag :: Kate Spade (similar / love this one)
The striking, natural colors of the scenery in vivid red, amber, green and yellow were the fantastic backdrop to my bag that day:  A light gold yet classic Kate Spade Tote Bag.  It carried my camera, a bottle of ice-cold water and sunglasses, great things to bring on a trip out here.
As the number 1 attraction while staying at the Red Rock Resort is visiting Red Rock Canyon, it's totally one of the best things I did this weekend!  I highly recommended it!
Take a break from losing your bankroll at the casinos and take a drive to one of the best kept secrets of Las Vegas!
Facebook :: E-mail :: Twitter :: Bloglovin :: Lookbook