I had the most amazing time at the Palihouse recently, located in Hollywood by the famed Sunset Strip!  How marvelous it is that every October 31st, locals and tourists gather around the area to celebrate the much-publicized West Hollywood Halloween Parade.  Little did I know, that steps away from this illustrious festivity is a venue that is just as distinguished and remarkable.
Palihouse Holloway:  An urban lodge that is ultra-sleek, classy, and sophisticated.  Let's start our weekend here in a place where the word chic is clearly an understatement!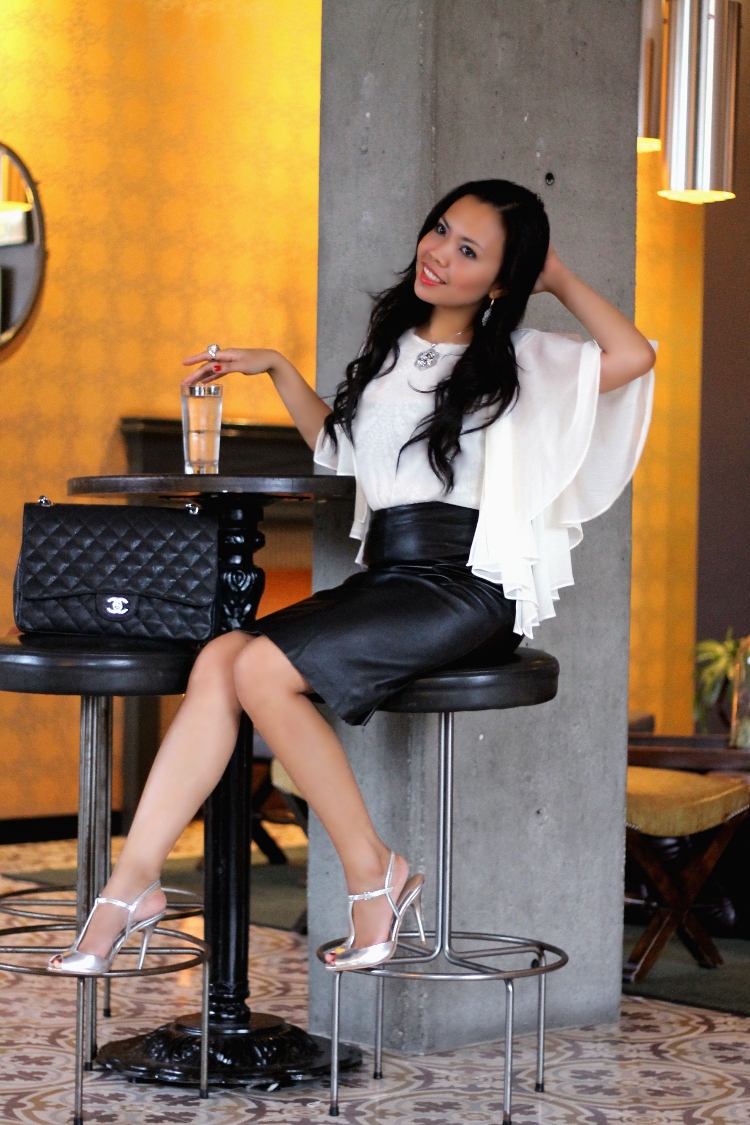 I was sincerely enamored by the Palihouse's charm which exuded a modern vibe of Hollywood's golden age.  Staying here is both comfortable and luxurious!  It was the perfect place to relax, unwind, be in the heart of the city, as well as giving ample space to socialize.  The interior does not make you feel like you're in a hotel.  You almost feel like you're staying at a close friend's home.  Even their front desk looks like a charming study!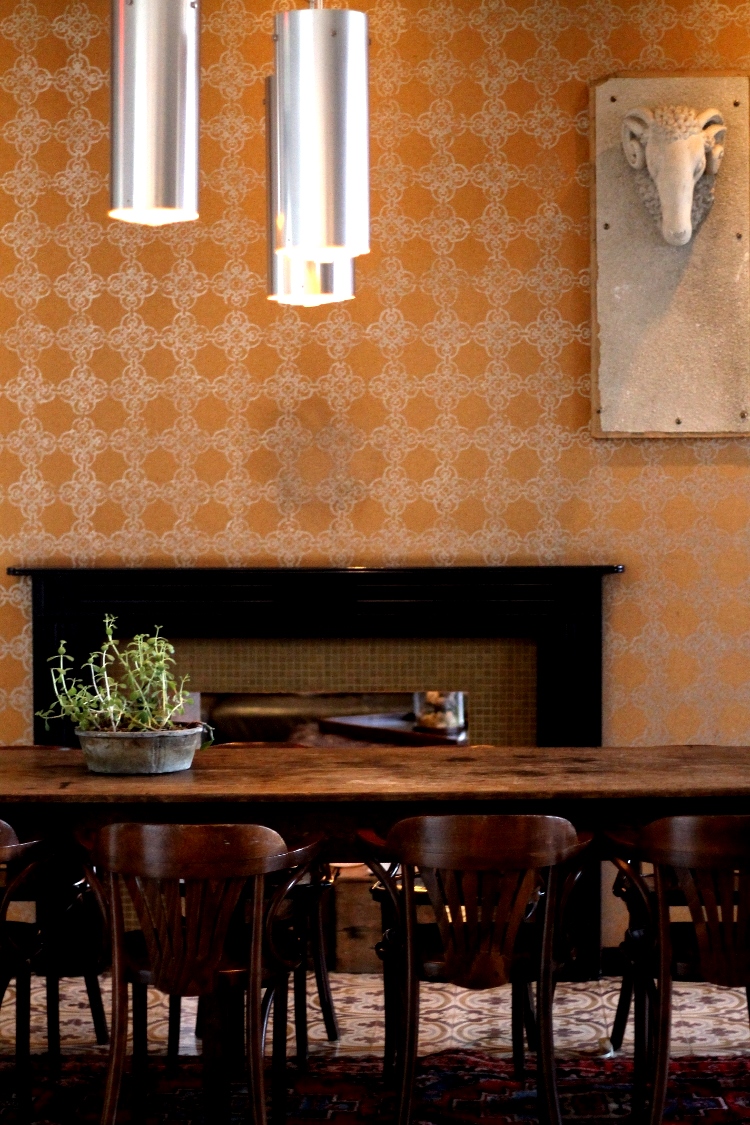 Inspired by the establishment's old world charm, it was easy for me to visualize every kind of social event that can be held here. I even immediately recognized it as the hotel where Lauren Conrad, Audrina Patridge and Lo Bosworth went for Whitney Port's going away party when she left the reality show The Hills.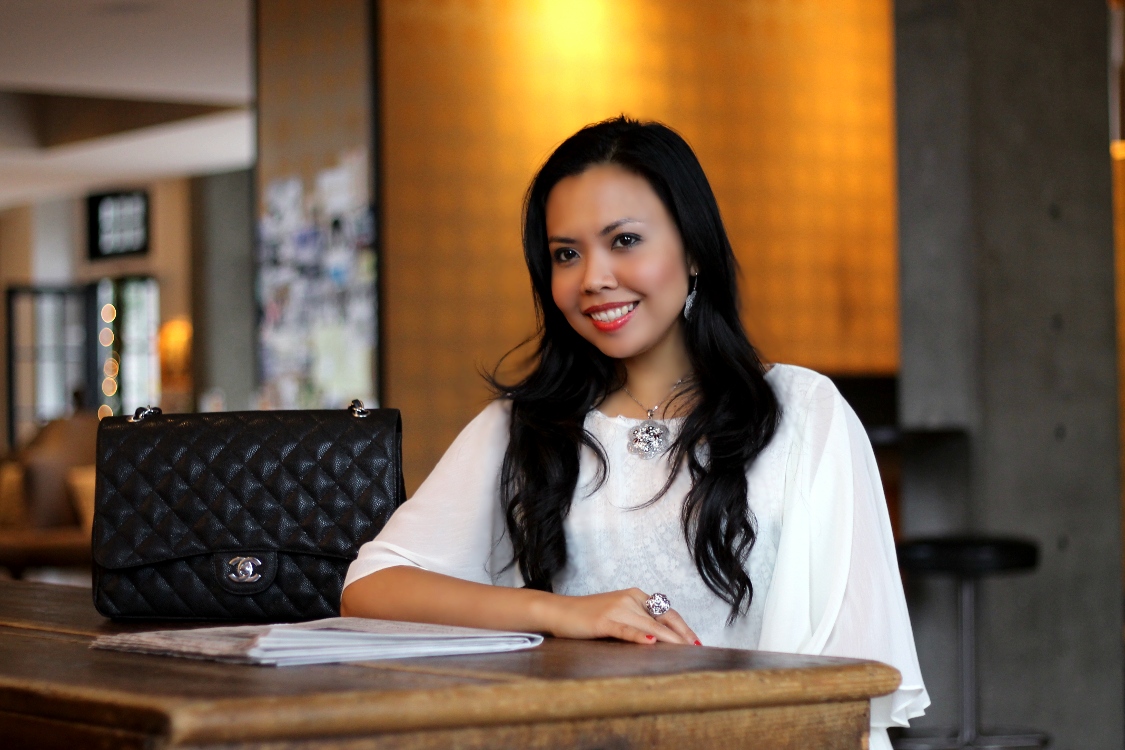 Whether it may be a chic birthday party, an upscale business holiday shindig, a launch of a new product, or even a glamorous wedding reception… If you think of an event, Palihouse will probably be able to make it happen.
The lobby, lounge, and restaurant area are just one big space that can be transformed into anything.  The space is so great, so vast, that one can bring in your own props, if you have to.  Of course, the interior design is truly a set for old glamour charm.  Every corner has a story tell, every couch provides their visitors a one-of-a-kind experience.
While in this truly chic atmosphere, I wore the dashing Lizzie Blouse by Los Angeles designer Katie May and paired it with my own vintage leather pencil skirt.  The graceful top is a two layer blouse that features a scalloped lace and textured chiffon.  It was an uptown look that was both sharp while remaining comfortable.
As I continued walking around its grounds, I've become assured that there is seemingly something special about this place.  Palihouse truly has an ingenious atmosphere, adrift with the refined undertones of old world Hollywood.  I certainly felt I was in an era of exquisite creativity that is beautifully represented here at this fabulous urban lodge.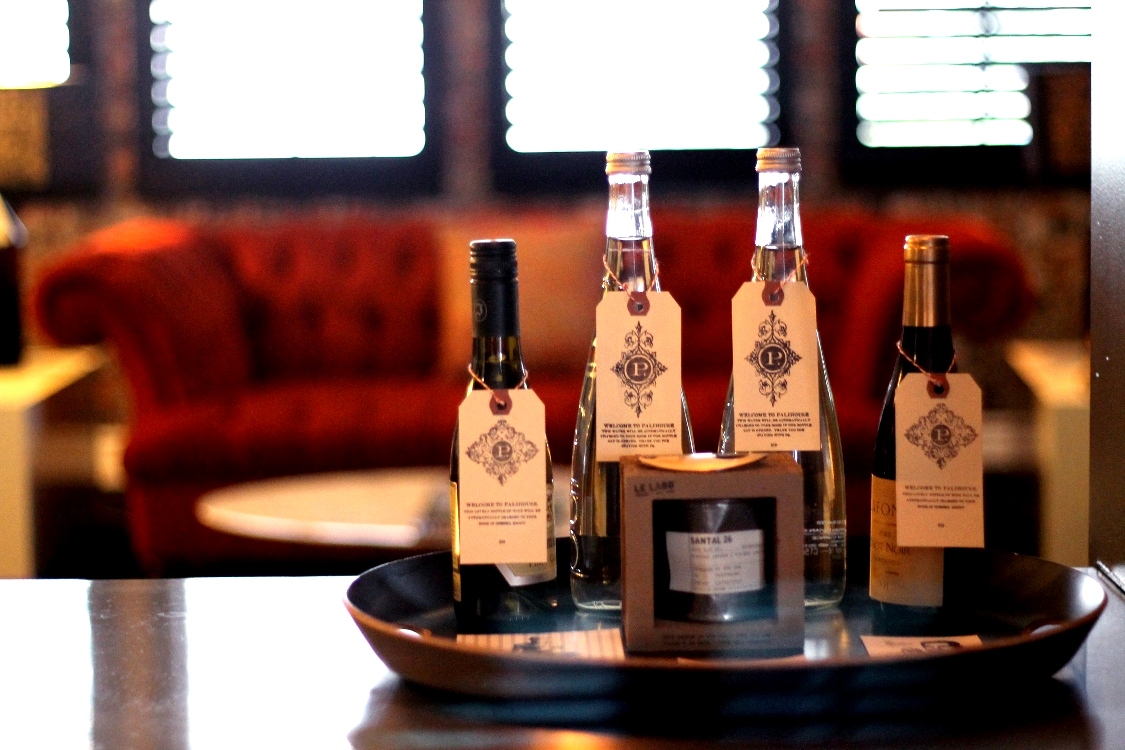 The tour around the property was magnificent.  This urban lodge, as they like to be called, is more than a boutique hotel.  Each suite has opulence in its demeanor.  Choose between a romantic suite that has a quintessential avant-garde Hollywood vibe, or a more modern and new-fashioned condo suite great for extended stays, both incredibly spacious and equipped with state-of-the-art amenities.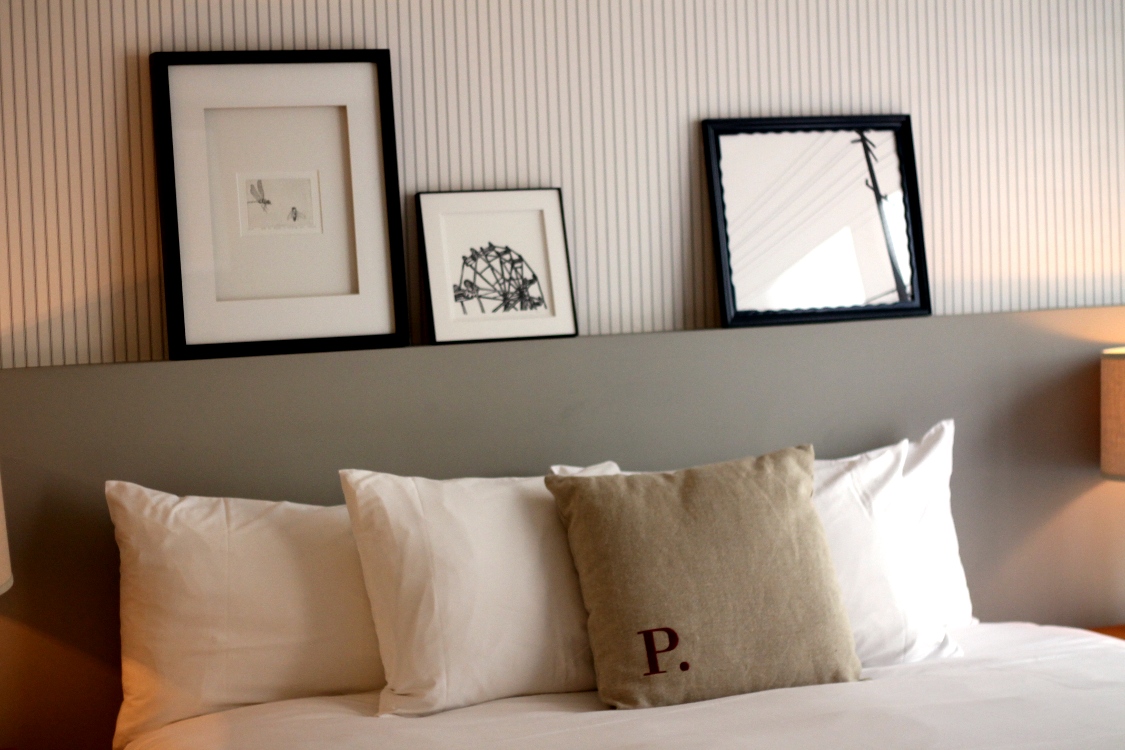 I give tribute to Hotelier Avi Brosh and the vision he has brought to this luxurious place.  I am ingenuously impressed with his stylish extended-stay hotel!  Every detail contributes to the ambiance he wanted to achieve… one that is luscious, while remaining cozy and pleasurable.  The scene motivates your imagination and inspires you… undoubtedly an enviable urban loft at the heart of Hollywood.  I would love to make this my permanent address and I know once you experience the Palihouse, you will want to live here too!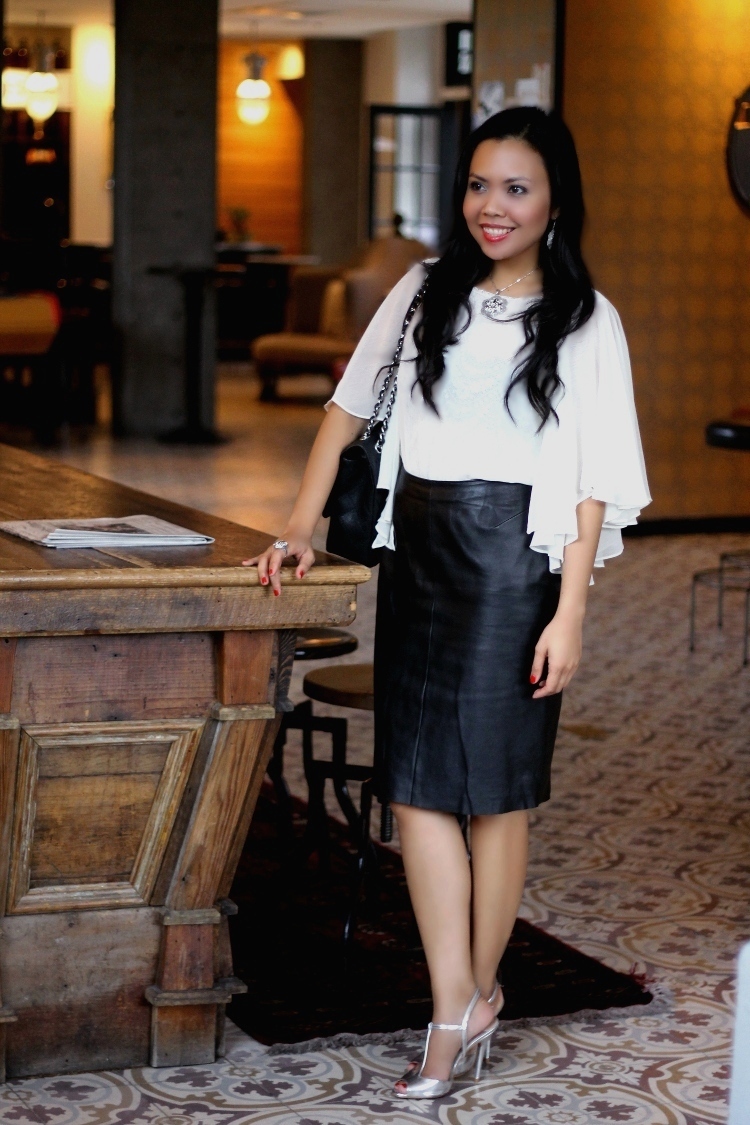 From the charming glow of the stately fireplace in the lobby, to the long windows that finished the place off with indubitable debonair — I was entirely mesmerized that such an urban hotel exists here in the frenzy of West Hollywood.  So subtly simple in its exterior, one will truly be allured upon entering Palihouse.  Subtle chicness in its entirety.  I was honestly surprised by the uniqueness of its interior as the building's exterior blended in very well with its surroundings.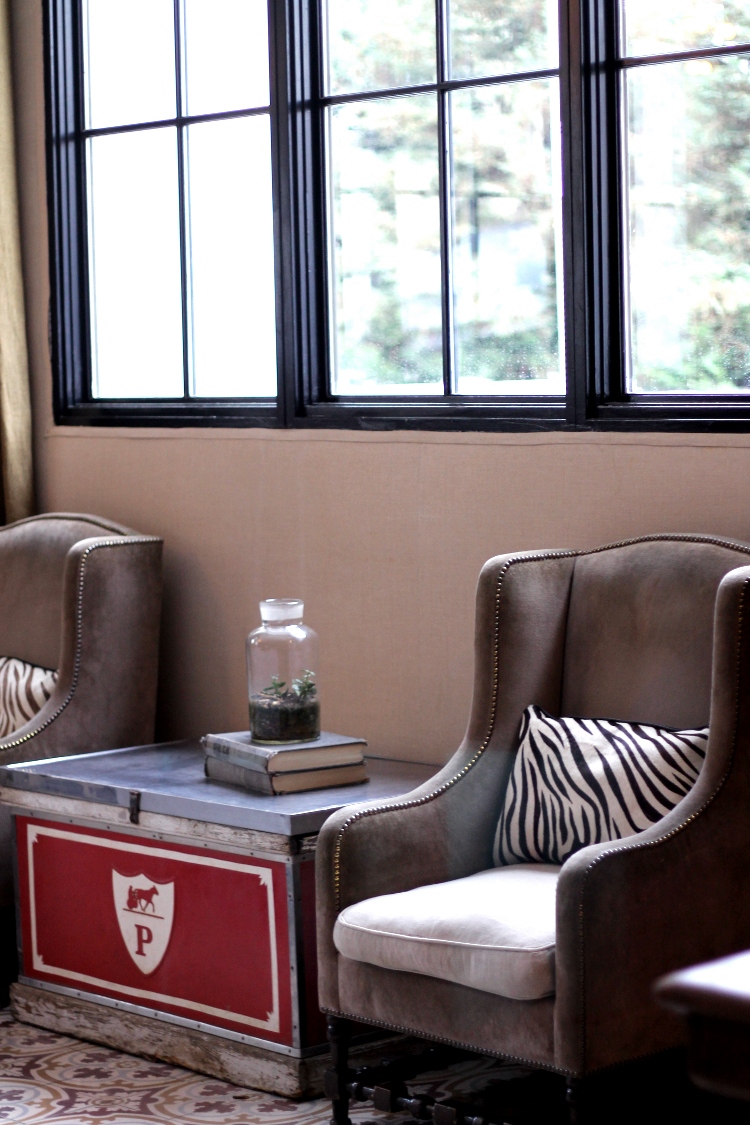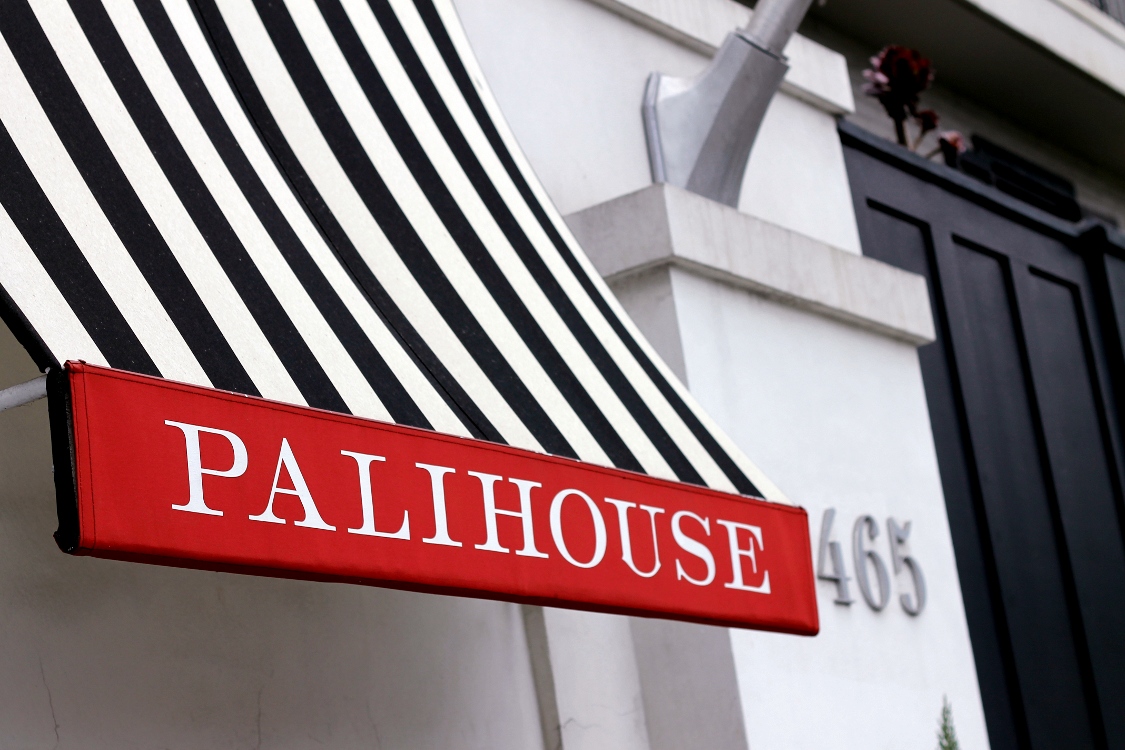 In a place like this, you want to dress appropriately.  Here are 5 Style Tips on How to Easily Look Chic:
1.  Timeless is Key.  My classic white blouse is plain but its flared sleeves give a dramatic touch.  Think simple with a twist!
2.  Choose Great Fitting Basics.  The leather fabric of my pencil cut skirt is comfortable while giving my look an elegant yet trendy panache.
3.  Wear Stylish Yet Sensible Shoes.  You can never go wrong with peep-toe pumps, in any texture or color.  My silver pair even measures up to this fall's t-strap shoe trend!
4.  Accessorize minimally.  If you must wear a bold statement piece, where only one, such as a statement necklace or cocktail ring.  Since the jewelry set I am wearing is all in one design, I decided to wear the entire set of dangle earrings, pendant necklace and cocktail ring, all in Italian Gold over Silver Jewelry.
5.  Wear the attitude!  Confidence is key any time, any place… especially at Palihouse!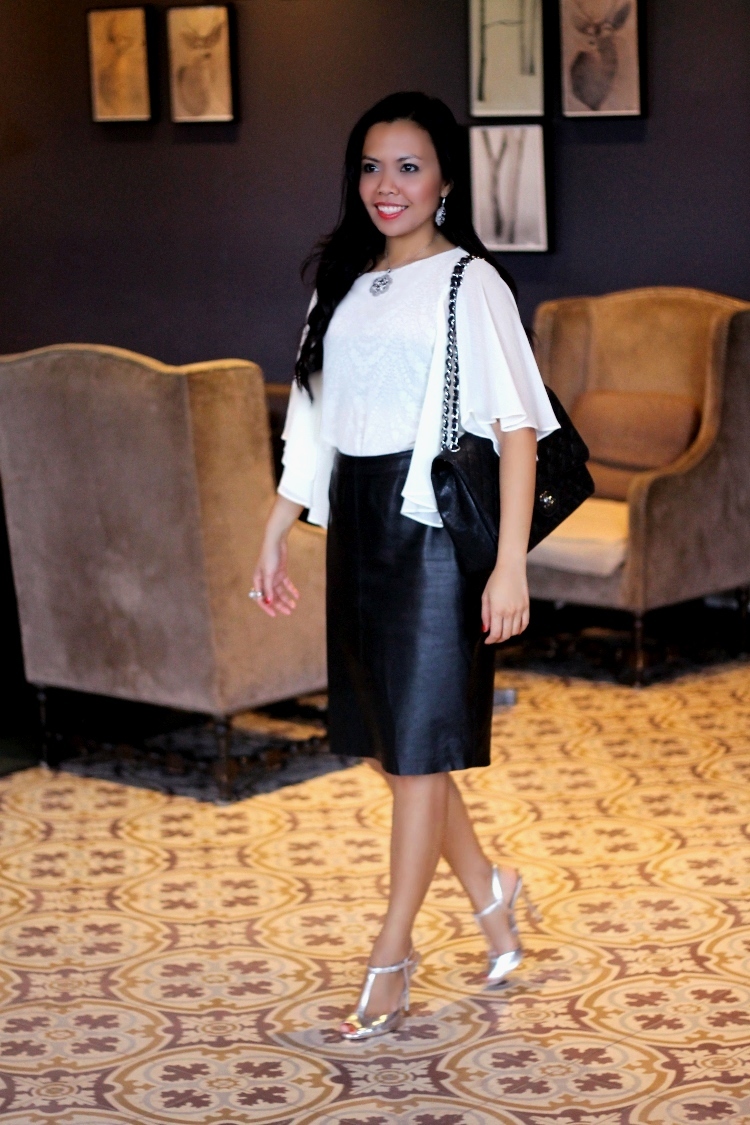 Style Details
Blouse :: Lizzie Blouse thanks to Katie May!
Leather Pencil Skirt :: Vintage (similar here & here)
T-strap Peep-toe Heels :: Zara (love this one too)
Purse :: Chanel
Jewelry :: Italian Gold over Silver & Enamel Flower Pendant Necklace, Earrings & Cocktail Ring Set (e-mail me for price & details!)
All in all, it was an enthralling evening.  I finished it off with literally taking a bite out of Hollywood so please look forward to my upcoming post on the equally beguiling Palihouse Courtyard Brasserie!  Cheers!
Palihouse Holloway –  8465 Holloway Drive, West Hollywood, CA 90069
323.656.4100
Follow Me On
Facebook :: E-mail :: Twitter :: Bloglovin :: Lookbook
AFJM