What is a Vegas trip without visiting the iconic Strip?  One will truly marvel at the sight, be it day or night, at this world-popular spectacular boulevard.
The
Las Vegas Strip
is home to many marvelous sights that is unique to the world.  As new casinos, hotels, and resorts are built, each tops the next in terms of creativity and the "wow" factor.
Here are the
Top 5 Sights to see when touring the Strip
:
1. 
Dancing Fountains
of 
Bellagio
2.  The Eiffel Tower Experience at Paris Las Vegas
3.  Volcano at the Mirage Las Vegas
4.  Gondola Rides at Venetian Las Vegas
5.  Roller Coaster on Top of the Stratosphere Las Vegas
Granted I stayed off the strip for the first time, the benefits were clearly evident. Therefore, I would like share the Top 5 Reasons why you should stay off-Strip on your next trip:
1.  Fewer crowds and traffic.  Indulge in something completely different: a peaceful Las Vegas vacation.  Get yourself some real rest and relaxation without the busy-ness of the strip. You also get to avoid those annoying people who flick pornographic cards to try and get your attention. If you haven't been to Vegas, this is an annoyance quickly spotted when walking along the boulevard.
2. 
Save a lot of money on hotel costs.
  Some Strip hotels are dated while still demanding premium room pricing.  Unless you are staying at one of the Top 5 Hotel Resorts in Las Vegas, the rooms off the strip are simply more spacious, luxurious and contemporary (just like
Red Rock Casino and Resort
).
3.  Smaller off-Strip Resorts treat you like family.  Not to say that the customer service skills of the bigger hotel chains are less than exemplary (again, this would not be a problem if you are staying at one of the Top 5 Hotel Resorts on the Strip), smaller hotel chains tend to take care of you since they have the time to show that they appreciate your business.
4.  Experience the real faces of Las Vegas.  If you have vacationed in Vegas many times and, this time, are looking for a more atypical experience for your next trip, try hanging out with the locals. Some of my local friends have taken me to a lovely jazz concert in the park, or even a free wine tasting at the M Resort during some of my trips here.  There are so many options when you are actually open to them.
5.  Most off-Strip properties provide shuttles to the Strip at prescribed times.  Avoid walking under the scorching heat in the Summer, feeling the wind in Spring or Fall, or being chilly during the icy cold weather in the winter and enjoy the strip without the hassle of finding directions, spending more on gas, and getting agitated by excessive traffic.
It seems even hotter on The Strip this time (probably due to traffic and pollution) as compared to the Red Rock Resort.  Here, I am wearing a breezy outfit with a hat to protect me from over exposure from the sun (a much-needed accessory when visiting Vegas in the Summer).
Of course, if you have never been to Vegas before, staying at The Strip would be more convenient for you.  When you stay on the strip, you are in the middle of it all. You can walk from your casino to a live show at another hotel, followed by a world class restaurant, then finally to a hot nightclub. It is all right there for you to enjoy with very little effort.
One thing that is surely within your reach are the top-rated buffets on The Strip.  On this weekend getaway, I decided to feast at the newest buffet in town: The Wicked Spoon at The Cosmopolitan Hotel. I was intrigued by this buffet from all the reviews and features I had read. It seemed funky and fresh while delivering a new approach on the traditional Las Vegas buffet.  I find Wicked Spoon to be a very stylish buffet at a very chic casino.
Here is a photo showing some very nice interior decors and embellishments providing an elegant appearance and relaxing ambiance.
The food itself is pretty good. As someone who leans towards eating more vegetables and grains, I think there is a larger selection of healthy fares here than other buffets. I love the portions and presentation of each item.  They are prepared and displayed gourmet style.
Things that stood out: the food displays are very appetizing and creative. I like the little take-out boxes used for Asian udon noodles and edamame (which were really tasty), little sliver sauce pans used to hold gnocchi, yummy mac & cheese, country fried chicken, bowls of clams in white wine & garlic broth, korean bbq ribs… there are so many choices!
My absolute favorite part is dessert.  There were chocolate-dipped strawberries, Molten Chocolate & Salted Caramel Lava Cake, Godiva cake lollipops which are super pretty and really chocolatey, a variety of cakes and pastries, etc. I feel the dessert was more focused on chocolate.. nothing wrong with that!
All in all, the Wicked Spoon Buffet is more upscale and gourmet-style than any of the other buffets.  Though I was not disappointed, I still think the Wynn Buffet (their sea bass alone is worth the price) is the best buffet in town.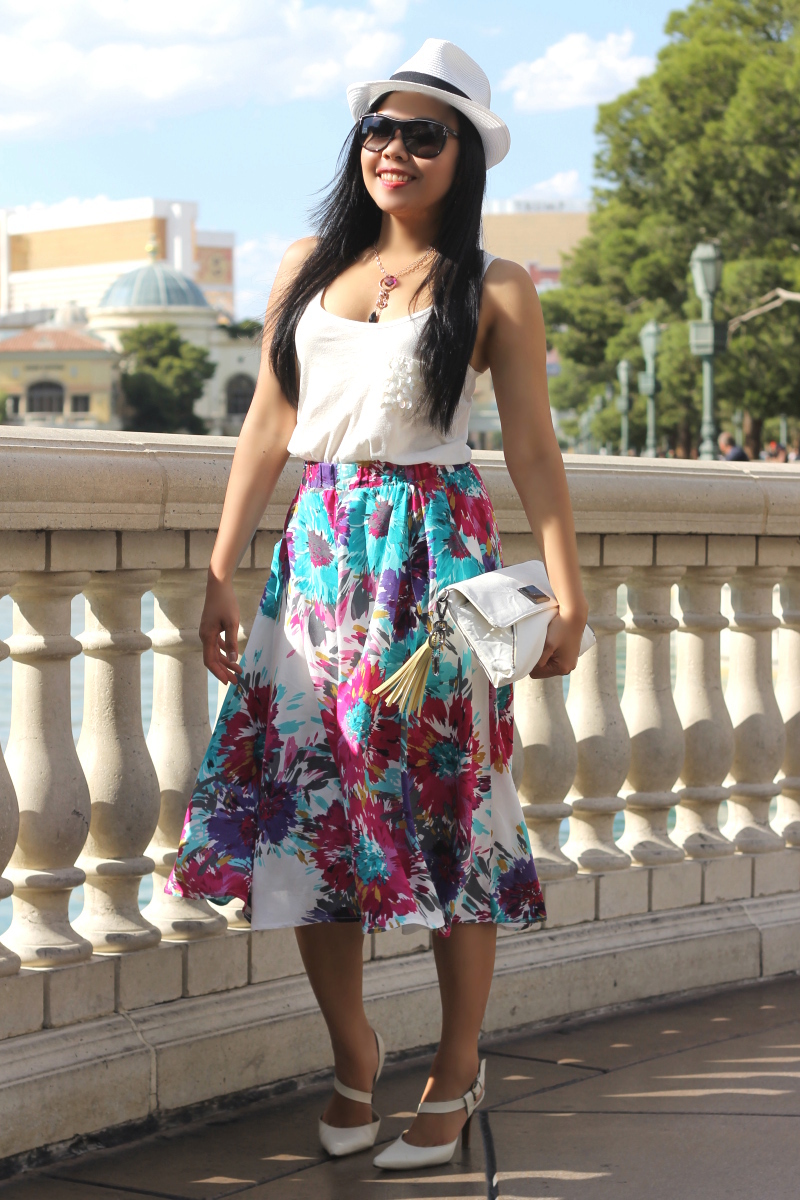 Style Details
Tank :: J. Crew (similar here / cute one / in peplum)
Skirt :: Old Navy Womens Pocket Tea Length Swing Skirt (similar here / lovin' this one too / adorable)
Clutch :: Calvin Klein (similar by DVF here / look for less)
Heels :: Vintage (gorgeous one by Lanvin here)
Straw Fedora Hat in Black & White :: Purchased from LA Street Vendor (similar here)
Sunglasses :: Dolce & Gabbana (love this style / look for less)
Jewelry :: Quartz & Rose Gold over Silver Necklace & Dangle Earrings (similar / lovely / look for less)
We all know the saying "what happens in Vegas stays in Vegas." Well… if your experience was THAT good, then that will be a hard saying to exercise!  Enjoy and bon appetit!
Facebook :: E-mail :: Twitter :: Bloglovin :: Lookbook