Wow! I can't believe Labor Day weekend is already over! Most Angelenos spend this long weekend BBQ'ing at home or at the beach, or taking a road trip to Las Vegas or Palm Springs.  Since my family and I toured those places during their visit, I've decided to spend the weekend differently. Considering that flying is usually not an option due to high prices during the holidays, I decided to try a place that is not as popular.
Labor Day weekend is usually pretty hot so I wanted to go to a destination where I can cool down. I decided to go to the mountains where the temperature was 20 degrees cooler. When I got there, it felt very refreshing.
I went to Lake Gregory, a beautiful mid-sized lake in the mountain.
It is in the town of Crestline, the closest mountain resort town from LA.  The road going up is winding but not as bad as going up to Big Bear. It only took about 20 minutes to get to the town. Happily I saw multiple vista points that showcased spectacular views of San Bernardino county.  As soon as I got to town, it seemed like I was in a different world.  I was immediately charmed by the lovely small town feel of Crestline.
This is my 3rd time here but I can't help but feel nostalgic every time I visit.  The lake has a magical feel as if promising unforgettable memories to people who visit.
Wearing this blue topaz ring was a last minute decision.  What better cocktail ring to bring than the color of the lake itself?
One of the things I look forward to doing again is to hike the 2 mile scenic trail around the lake where I can enjoy the views of trees, birds and, of course, the lake.
For the trip, I packed a light dress I scored at H&M at a family trip earlier this summer in New Jersey.  To pack light, the words "comfort" and "versatility" were my main themes in picking out my outfits for the weekend.  This outfit doubles as a dress and a beach cover-up. My shoes are jelly wedges which are made to look fabulous whether wet or dry!  I love the little ribbon detail on my platform sandals, such casual elegance.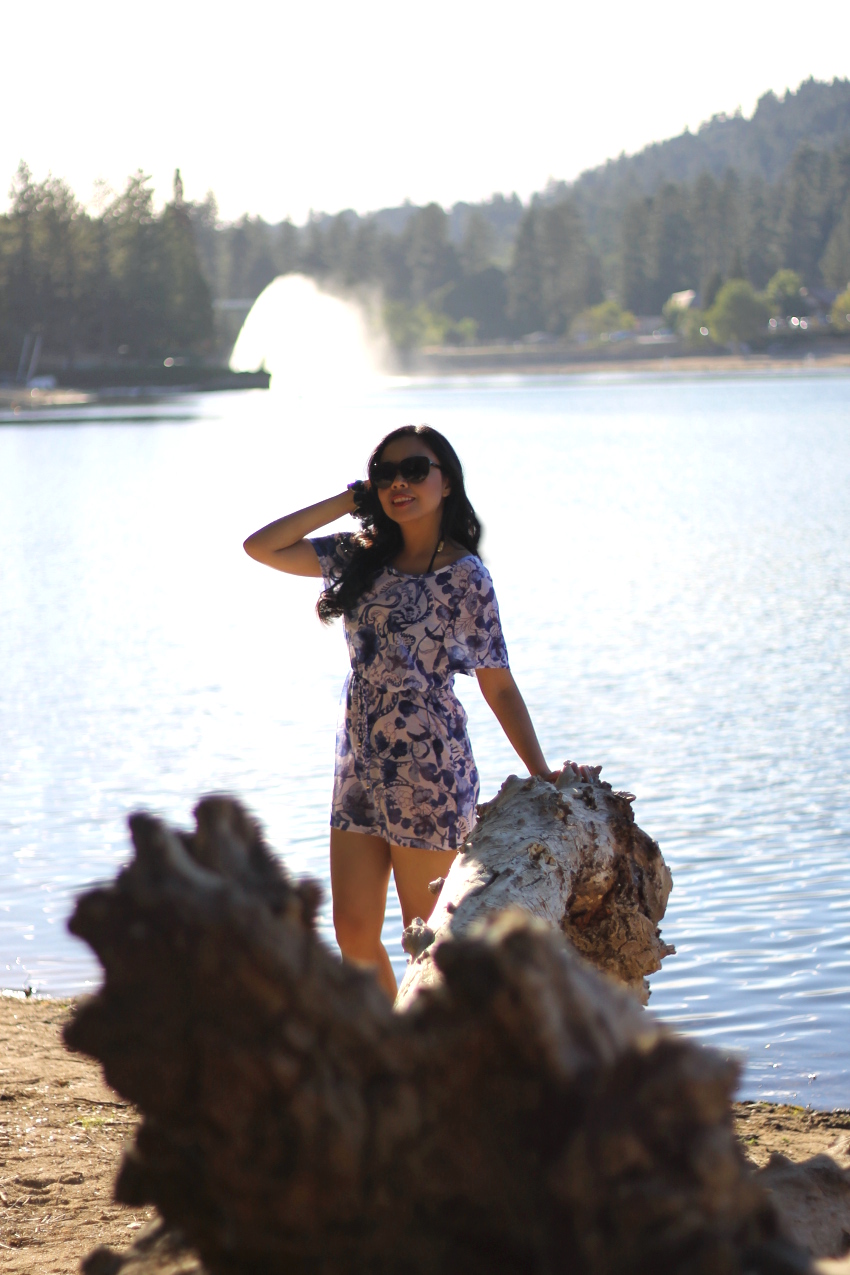 My woven Gap bag was quite a steal since I got it for under $10 years ago.
The key is to buy pieces that are timeless whatever the season.   
There are many social events at Crestline throughout the year.  On the Sunday of Labor Day weekend, over a hundred people from all over Southern California participated in Lake Gregory Regional Park's 13th Annual Sand Sculpture contest in which families and friends gathered to spend time together where they can have a chance to win prizes during the event.  How fun! Check out this article containing more pictures on the contest!
One of the delightful things to do here is to enjoy the outdoor shopping on the main street where you can browse (the setting is sort of like a bazaar) scores of jewelry, clothes, accessories and furniture — a tradition for many years in Crestline.  Although I received my natural stone bracelet as a gift, I am sure anyone can surely pull off a great deal on some of the eclectic pieces they showcased here.
During my time here, I came up with the Top 5 Reasons why visiting a small town is better than visiting a major city on holidays:
1.  Bye Bye Traffic!  When I was on my way there, or driving around, or driving home, I didn't encounter any traffic at all!
2.  No Long Lines for Brunch!  The area was filled with quaint mom and pop restaurants famous for home cooked meals.  Why wait at a popular restaurant chain when you can get some good home cooked food in 5 minutes?
3.  No Tourists and Rude People to Crowd and Bother you on the Sidewalk!  The locals welcomed us visitors and, although busy, it wasn't as crowded and disruptive as it would have been if I decided to go to Las Vegas.
4.  Safety!  There were a lot of policemen (our front neighbor was one of them) and townsfolk who seem to be aware of everything going on in their little city.
5.  You can actually See the Stars in the Sky!  The cabin we rented had two decks, as with most vacation rentals in Lake Gregory, which gave us plenty of space to enjoy all the views.  Like I said, day or night, this place was magical.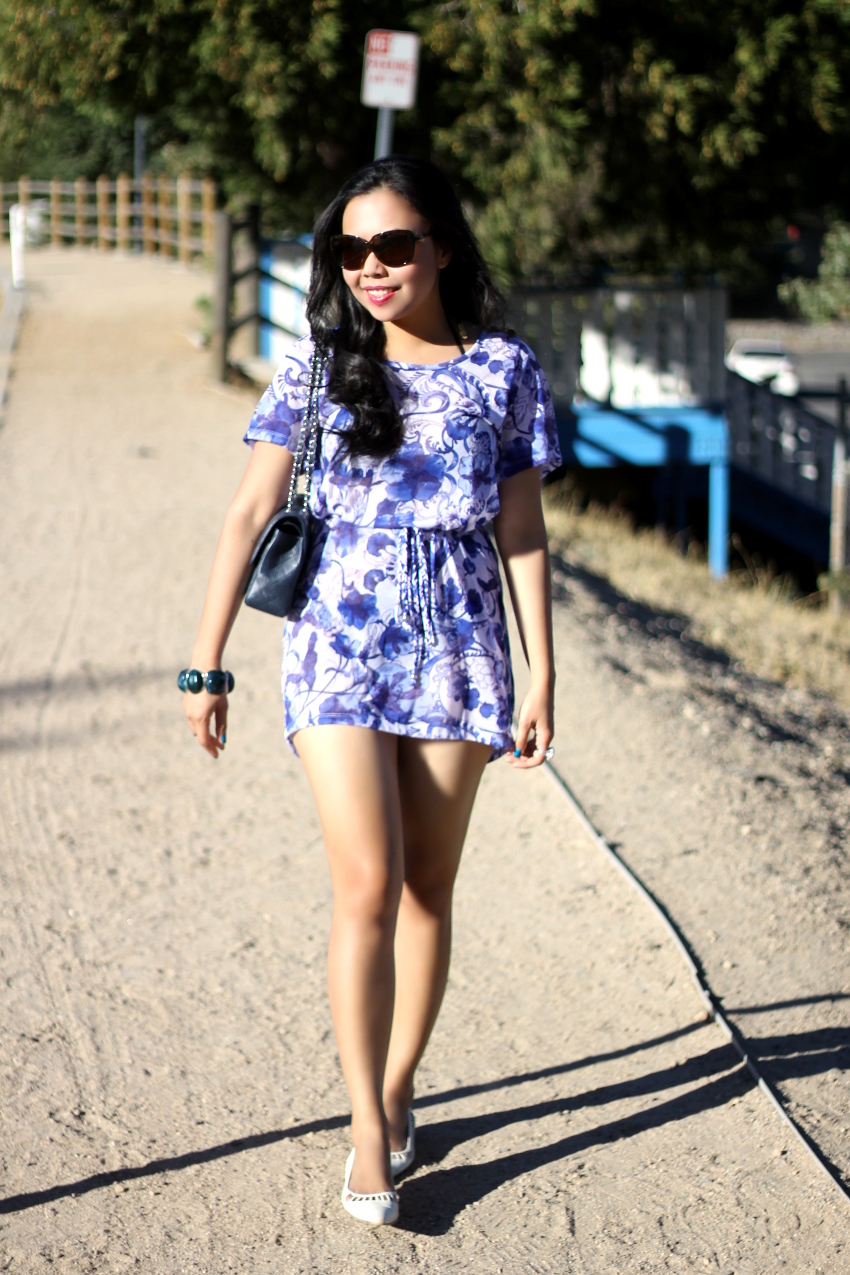 Style Details
Outfit :: H&M Blue & White Floral Dress Beach Cover-up (love this by Tibi & this by DVF / look for less)
Flats :: Banana Republic White Pointed Flat Pumps (adore this by Valentino / cute t-strap flats by Sigerson Morrison / look for less)
Heels :: Vivienne Westwood by Melissa Jelly Wedge Shoes
Purse :: Chanel
Beach Bag :: Gap (similar here / look for less)
Ring :: Blue Topaz Square Cocktail Ring in Sterling Silver (similar here / look for less)
Bracelet :: Natural Stone Bracelet (gifted)
Sunglasses :: D&G (similar)
Two words: Peace and Quiet.
I invite you all to escape to Lake Gregory and experience a fascinating time away from any hustle and bustle!
Facebook :: E-mail :: Twitter :: Bloglovin :: Lookbook